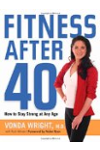 Changes in flexibility are dependent on the frequency and duration of stretching. For people under 65 years old, maximum benefit is achieved with a slow muscle stretch until the muscle feels tight but doesn't hurt. (Slow stretching lengthens muscle fibers without causing tearing and damage. This is important since muscle tears often heal with scars, which are very stiff.) Once you reach this place, hold the stretch for 30 seconds without bouncing. While any stretching is better than nothing, less than 30 seconds is less effective. After 30 seconds, rest for 10 seconds and then repeat the stretch for a maximum of four repetitions. No added benefit is gained if you hold the stretch for more than 30 seconds or do more than four reps.

The caveat to this is if you are older than 65. If you are, you need to hold the stretch for 60 seconds. This will gain almost double the range of motion. If you are younger than 65, there is no added benefit to holding a stretch for 60 seconds.


Perform the set of stretches only once a day. No added benefit has been found with more than one set per day for each muscle group. It takes about six weeks of consistent stretching to see good results, and then you must maintain your muscle length by continuing daily stretches. Studies have found that if you stretch for six weeks and then take four weeks off, you will return to baseline as if you had never put in the effort. The good news is that by starting over, you can regain your flexibility again . . . after six weeks.