Oats are one of the best sources of soluble fiber. Soluble fiber has been proven to help with lowering total cholesterol and LDL. In addition to helping with lowering cholesterol, oat fiber has been known to help with blood sugar control. Enjoy oats as part of an overall healthy diet.
Oats are a very good source of manganese, selenium, phosphorous, magnesium, and iron. Oats have more than thrice as much magnesium as calcium (177 mg versus 54 mg per cup of dried oats). In addition, oats are a good source of vitamin B1 and soluble dietary fiber.

Oat bran's dietary fiber is high in beta-glucan, which helps to lower cholesterol by binding bile acids and removing them from the body via the feces. Since 1963, more than 30 clinical studies have examined the effect of oat bran on serum cholesterol levels. Various oat preparations containing either oat bran or oatmeal have been used, including cereals, muffins, breads, and entrees. The overwhelming majority of these studies demonstrate a very favorable effect on cholesterol levels: In individuals with high cholesterol levels (above 220 mg per dl ) the consumption of the equivalent of 3 g of soluble oat fiber per day typically lowers total cholesterol by 8 to 23 percent. This is highly significant, as with each 1 percent drop in serum cholesterol level, there is a 2 percent decrease in the risk of developing heart disease. 3 g of fiber can be obtained by consuming approximately one bowl of ready-to-eat oat bran cereal or oatmeal.

Although oatmeal's fiber content (7 percent) is less than that of oat bran (15 to 26 percent), it has been determined that the polyunsaturated fatty acids contribute as much to the cholesterol-lowering effects of oats as does the fiber content.

Although oat bran has a higher fiber content, oatmeal is higher in polyunsaturated fatty acids. This makes oat bran and oatmeal quite similar in their effectiveness. It is important to note, however, that although individuals with high cholesterol levels will see significant reductions with frequent oat consumption, individuals with normal or low cholesterol levels will see little change.

Studies also show that oat bran has beneficial effects on blood sugar as well. Adults with type 2 diabetes, when given foods high in oat fiber, or oatmeal, or oat bran-rich foods, experienced a much lower rise in blood sugar than those who were given white rice or bread.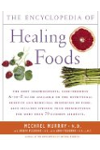 More About this Book
Encyclopedia of Healing Foods
From the bestselling authors of The Encyclopedia of Natural Medicine, the most comprehensive and practical guide available to the nutritional benefits and medicinal properties of virtually everything...
Continue Learning about Nutrition