Fiber is naturally found in the skins of fruits and vegetables, legumes, sprouts, and grains (especially whole grains). Most people don't get enough fiber, which is in the orbit of at least 25 grams per day for women. Our consumption of highly processed foods and beverages (other than pure water) has decreased the average amount of fiber in our collective diet; as a result, numerous synthetic fibers are sold as supplements and added into food products. Is the fiber found in a processed box of sugary cereal the same as what drops from an apple tree? Not nearly.

Many foods contain "isolated fibers" to boost the fiber content. But it is unlikely these isolated fibers, usually inulin, polydextrose, and maltodextrin, provide the same health benefits as "intact fibers," such as that found in whole beans or oats. Fiber One Oats & Chocolate bars, for instance, provide 35 percent of daily fiber, but the fiber comes mainly from chicory root extract, which contains inulin, and which incidentally can cause bloating and gas in many when they consume significant quantities at one time.

While these additives may add bulk and provide some of fiber's benefits, they don't necessarily include the phytonutrients, vitamins, and minerals found in nature's fiber sources. Add whole foods into your diet first, and then carefully incorporate fiber-added products only as needed. Try to include some fiber at every meal. If you have food allergies or intolerances, it's important for you to include other natural sources of fiber (rice bran, chia bran, and flaxseeds are excellent sources) to make up for the fiber in the foods you avoid. And watch out for fiber added to foods that are high in sugar.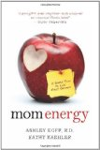 More About this Book
Mom Energy: A Simple Plan to Live Fully Charged
       From celebrated dietitian Ashley Koff and fitness trainer to the stars Kathy Kaehler comes Mom Energy, an exciting new way for moms to tap into their own natural and renewable sources of...
Continue Learning about Nutrition