Sugary foods with a high glycemic index can fuel toxic hunger (physical addiction to an unhealthful, low-micronutrient diet) eating frenzy, but consuming too many animal products can do it too. Americans are now accustomed to eating animal products, including beef, chicken, eggs, and cheese, at every meal, but eating such a high quantity of these very high protein foods can overload the liver's ability to eliminate excessive nitrogenous wastes. The excessive consumption of animal proteins and the elevated amount of waste products puts a stress on your body's detoxification channels and you wind up not feeling well -- or detoxifying more -- between meals.

Some people are more sensitive to this excess nitrogen than others. It is not unusual to find people who are forced to eat a diet rich in protein and animal products. Otherwise, they feel too ill. They must remain on a continual high-protein binge all day. They feel terrible if they try to stop eating high-protein foods or if they delay eating. These individuals may feel better when eating animal products at regularly spaced intervals, but this is the same as drinking more coffee to feel better.

It leads to more and more addictive symptoms and they never get better. Just like a caffeine addict, they may have to feel worse for a short time for these symptoms to resolve. Even though the overeating of animal protein causes the problem, the high-protein food also temporarily allows them to feel better and to feel better longer after the meal because high-protein foods take longer to digest and can delay the discomfort of withdrawal.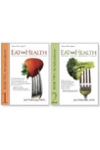 Continue Learning about Nutrition