8 Fruits and Veggies to Spiralize This Season
Kick the carb-heavy pasta to the curb and sink your teeth into these noodles instead.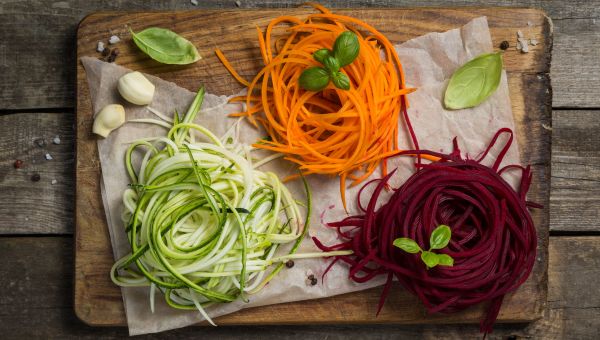 1 / 9
Summer is all about fresh produce, making it the perfect season to get serious about spiralizing. Creating noodles out of fruits and vegetables is a great low-carbohydrate alternative that keeps your diet full of vitamins and minerals. Not to mention that they make any meal look more fun and appealing.
"We eat with our eyes, so if we can make things just a little bit nicer on the plate, very colorful, we might be more inclined to eat them," says Patricia Skolnik, RD, LD, and clinical nutrition manager at Doctors Hospital of Augusta in Augusta, Georgia.
Here are eight options that will get you hooked on spiralizing. If you haven't purchased a spiralizer, don't fret. You can use other kitchen gadgets, such as a peeler, box grater, food processor or a sharp knife to achieve a similar effect. 2 / 9
Zucchini
Zoodles are likely the first idea that pop into our minds when we think about spiralizing—and for good reason. Zucchini is abundant during the summer, can be turned into noodles easily and has a mild flavor that pairs well with many different toppings.
"Zucchini and squash are both very good sources of fiber, which is awesome for gut health," says Skolnik. Diets high in fiber have been shown to help prevent obesity and heart disease.
Try It: Instead of topping your zoodles with store-bought sauces, rely on other summer produce. Make a homemade pesto using fresh basil. Grab some heirloom tomatoes, remove the skins and simmer them with herbs to create a flavorful sauce. Or simply top your summer squash with olive oil, a hint of salt and a sprinkle of parmesan cheese. 3 / 9
Cantaloupe
Spiralizers are not just for veggies. Melons like cantaloupe can be easily turned into nutritious noodles. A single cup of cantaloupe has over a daily serving of vitamin A, which helps support normal vision and a healthy immune system. It also contains plenty of vitamin C, an antioxidant that keeps our skin and bones healthy and allows them to heal.
Try it: Spiralize cantaloupe and toss with thinly sliced ribbons of prosciutto for a new take on a classic appetizer. You can also try spiralizing honeydew. Make an eye-catching fruit salad by mixing berries with thick cantaloupe and honeydew noodles. 4 / 9
Cabbage
Cabbage can be a pain to chop up by hand, but a spiralizer can quickly shred an entire head. And there is a compelling reason to add more of it to your diet: a recent study found that eating more cruciferous vegetables, such as cabbage, was associated with less artery wall buildup among elderly women. However, this veggie likely aids in keeping your heart healthy at any age by serving up a good amount of fiber and antioxidants.
Try it: Quickly throw together coleslaw by spiralizing green or red cabbage, along with carrots. Toss the veggies in a vinegar-based dressing. "With cabbage being a low-calorie food, it's a great side dish, just so long as we don't put too much mayonnaise-based dressing on top of it," says Skolnik. To complete your barbecue, use cabbage spirals to top burgers or in a salad with your favorite type of lettuce. 5 / 9
Peach
If you are up for a challenge, throw a peach on your spiralizer. Try to choose ones that are on the firmer side and be sure to cut around the pit. While it won't yield long noodles like other produce, you can create short strands. And you'll also add a little Vitamin C, potassium and fiber to your diet.
Try it: Skolnik suggests combining peach noodles with strawberries and cottage cheese for a filling snack. "It's a nice refreshing cold salad, but nutritionally complete, because you'll get some protein from the cottage cheese." You can also mix peach with red onion, tomato and peppers to make a fresh salsa. 6 / 9
Bell Pepper
In addition to being loaded with vitamin C, bell peppers also have a decent amount of folate. Besides needing this B-vitamin for heart health, folate is important to women who are pregnant or trying to conceive. "A lot of women of childbearing age are very familiar with needing enough folate if they want to get pregnant in order to prevent early pregnancy defects from folate deficiency," says Skolnik.
Try It: Spiralized bell peppers can fit into any meal. Tuck them into an omelet for breakfast. Combine bell pepper and zucchini noodles with lettuce, tomatoes, olives, artichokes, mozzarella cheese and a light vinaigrette for a lunchtime antipasto salad. And use them as the base of a stir fry for dinner. 7 / 9
Broccoli
If you're tossing your broccoli stems in the garbage, you are missing out. The stems are a great source of nutrition—and tasty when peeled and turned into noodles. It's also a smart way to add more potassium into your diet, another mineral that helps to maintain good blood pressure. "People with high blood pressure are often advised to stay away from high-sodium foods, but I think the thing that we forget to tell people is to eat more high-potassium foods," says Skolnik.
Try it: Try broccoli stem noodles the same way you would use zucchini, in place of pasta or rice as a low-carb option. Toss with the broccoli florets, lemon, garlic and olive oil to make a summer pasta dish. Or use the strands to top a white pizza. 8 / 9
Pineapple
You won't get a classic pasta shape when using the spiralizer for this tropical favorite. But the straight blade will create thin wispy strands of pineapple that can be added to a variety of recipes or eaten as a snack. One cup of pineapple has around the same amount of vitamin C as an orange, making it easy to vary your fruit and still get a daily serving.
Try It: Top your morning yogurt or oatmeal with a helping of pineapple twirls. For dinner, combine the strands with other summer veggies, like tomato or squash, a protein of your choice and a bit of low-sodium soy sauce for a dose of sweet and sour flavor. 9 / 9
Cucumber
This hydrating veggie can be turned into spirals just as easily as zucchini, making it a great base for a healthy, no-cook summer meal. Cucumbers can get you closer to your daily requirement of vitamin K, a nutrient needed for healthy bones and blood clotting. Keep the skin on for a little extra potassium­—just be sure to wash the veggie before spiralizing.
Try it: Use spiralized cucumber in place of chopped ones within any summer salad. The spirals work especially well as cold sesame noodles, without the carbs or calories of the takeout variety. Pickle cucumber ribbons to make a great sandwich topping with less sodium, or throw a few strands into homemade lemonade. Replay Slideshow