To enjoy pizza and still lose weight, it's all about portion and toppings. With pizza, there's really no standard serving size; one slice contains about 300 calories, which means one slice fits into a balanced diet, even when you're eating healthy. One slice, not two, four, or a whole pie. Use pizza as an opportunity to add fiber-rich veggies to your diet. They're high in nutrients and flavor. Pass on the meats. Sausage, pepperoni, or other meats add only fat and calories to your healthy slice. Order it with veggies, request a thin crust, and ask for more sauce and half the cheese. You truly won't miss it. If you have the option of ordering a whole-wheat crust, take it.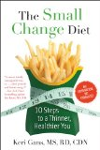 Portion size is key to the equation of caloric intake and weight loss. If you would like to have pizza, choose a thin crust pizza (1-2 slices) and serve with a large raw vegetable salad and low fat salad dressing. To keep the calories down, you can make your own pizza and modify the ingredients that are usually higher in fat such as using a low fat cheese, adding many vegetables to top the pizza, and if using meat on your pizza, choose lean meats. Keep in mind that a thinner crust pizza will have fewer calories than a comparison deep dish pizza.
A few tricks can keep pizza on the menu for dieters. "Hungry Girl" author Lisa Lillien reveals her best pizza tips in this video.
Continue Learning about Nutrition and Weight Loss