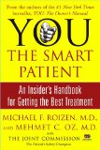 Finding out if a doctor has been sued for botched practicing is certainly a legitimate qualifying factor when you're shopping for a new physician or specialist. As long as the info is put into context, that is.

To find out if any malpractice lawsuits have been filed against a physician, call the county clerk's office where he or she practices, as well as the state medical licensing board and the state insurance department (you can ask the latter if any claims are on record for the doctor). You can also check your doctor's record on Web sites such as www.docboard.org.

Just remember that it's common for doctors to be sued, and many cases are dismissed or the physicians win, so the fact that a doctor has been sued for malpractice isn't necessarily a damning sign.

However, if he or she has been sued several times in the past few years and many of those suits have been settled or resulted in the award of large sums to the patient, I, as a doctor, would see that as a warning sign to move on. Lighting can indeed strike in the same spot twice, but four or five times is a little troubling.