Watch as Dr. Michael Breus discusses how sleep apnea could contribute to weight gain.

Sleep apnea makes you miss out on deep, restorative REM sleep. This leads to frequent awakenings at night (though your spouse may know it, you'll probably never feel yourself waking), lack of sleep, and daytime drowsiness. Not only are you more likely to develop arterial nick-causing high blood pressure (caused when your lungs hang onto carbon dioxide when you stop breathing), and, the bitter irony, you're more likely to get fatter because of sleep apnea.

That's because sleep apnea is like a series of rear-end collisions—one accident after another. The lack of sleep makes you tired. You feel like you need more energy. You eat foods that give you quick energy but also have high sugar and fat. You get fatter. You continue to have sleep apnea—and maybe now it's even worse, because being overweight is a key cause of sleep apnea. And the cycle continues.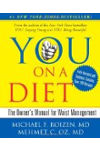 Continue Learning about Living With Sleep Apnea