Some of us like to call osteoporosis the Rottweiler disease-because it can chew up bones fast. So your job is to do what you can to build your bones and make sure they stay as dense as the third-grade class clown.

For starters, do resistance exercises like lunges, bent over back rows, and squats with a weight in each hand, or the exercises in the You Workout. Strength training builds muscle AND bone-and that can help slow the progression of osteoporosis.

Also, take 600 mg of calcium twice a day with 400 IU of vitamin D twice a day, 200 mg of magnesium twice a day, and 300 mg of vitamin C twice a day, and some spinach or other leafy green with vitamin K in it. Then take another DEXA scan in 12 months to gauge your levels.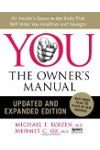 Continue Learning about Living With Osteoporosis