It's important to figure out how your job is causing your pain. If you have back pain that flares up when you lift heavy objects, you may have to go to physical therapy to improve your lifting tolerance or talk to your boss about modifying your job.
If you have wrist and hand pain caused by typing, you may want to have someone check out the "ergonomics" of your work space. If you use a different chair, keyboard, mousepad, and computer screen, your pain may improve.
If your pain is made worse by job stress (which is common), it's important to evaluate the whole situation.
Some job activities can suddenly cause pain where before there was no problem. This often can be a result from the fact we are getting older and age-related diseases such as degenerative disc disease or osteoarthritis begins to be symptomatic after repeated strain on the spine or joints. Lifting belts help whenever improper body mechanics have been identified. If possible, modification of duties and learning new lifting techniques can be ways to help manage the flares.
If overuse of the hands or wrists brings about pain and carpel tunnel is suspected then wrist splints can possibly be worn while the inflammation is treated. Ergonomic evaluations carried out by occupational therapists can be used to maximize the ease of one's office and computer space if potential pain inducing causes are identified. These onsite practical suggestions for modification that can keep one at the job longer while the injury causing pain heals or is better managed.
Every self-investigation (looking at your entire lifestyle for clues as to why you might be in pain) must include a good hard look at the leading cause of self-induced pain: prolonged positioning or repetitive movements at work. It doesn't matter whether you are a data entry clerk, steam pipe fitter, scientist, or dentist; spend enough time in one position or constantly perform the same movements, and you will pay the price of chronic pain. Going in to work tomorrow and demanding a new high-back leather chair or expecting the factory to reconfigure an assembly line to fit your needs is obviously not the answer. But if you believe your work is contributing to your pain, then you must devise different ways to do that work. The one thing you cannot do is keep repeating the same pain-producing routines and expect to achieve different results. That will never happen.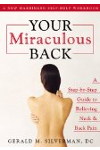 Continue Learning about Living With Chronic Pain