If your arthritic condition severely hampers your mobility, a trained service dog may be helpful to you. In addition to providing companionship, these dogs may be trained to respond to about 90 commands to help with day-to-day activities such as retrieving dropped items or items from shelves, opening doors, carrying items, pulling wheelchairs up ramps, turning on lights and assisting with counter exchanges at banks and stores -- tasks that can assist both children and adults in achieving greater safety and independence. Many organizations rescue dogs from animal shelters, providing yet another valuable service to the community. When choosing a service dog, be sure that adequate attention is given to matching your needs and desires with the dog's abilities and personality.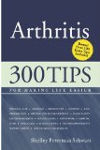 More About this Book
Arthritis
Arthritis: 300 Tips for Making Life Easier is a compendium of tips, techniques, and life-task shortcuts all learned from personal experience. Author Shelley Peterman Schwarz has lived with a chronic...
Continue Learning about Living With Arthritis