Daily arthritis management includes following directions from your doctor and maintaining a healthy lifestyle. Make sure you're taking medications and going to physical therapy according to your doctor's recommendations. Maintaining a diet low in calories and saturated fats and high in grains, fruits and vegetables can help slow the progress of the disease. Remember that obesity is a risk factor, so exercising, losing weight or maintaining a healthy weight is very helpful. To manage pain, hot baths, heating pads or ice packs may be helpful. Also, don't hesitate to use assistive devices like walkers or canes that can help you do your daily tasks with less pain.
The following strategies and therapies can make coping with arthritis a little easier:
Regular exercise. It may be counterintuitive, but physical activity not only helps maintain joint function, but also relieves stiffness and decreases pain and fatigue. It should help to increase range of motion, strengthen muscles and build endurance. As little as one to two hours of moderate physical activity each week should start to produce results. Work with your clinician or physical therapist to develop your own exercise routine.
Achieving and maintaining a normal body weight. Bearing excess weight results in more stress on joints, more deterioration of cartilage and more pain.
Assistive devices. A wide variety of splints are available by prescription and over the counter for hands and fingers, wrists, elbows, knees and ankles. These may help to ease pain and increase mobility. Using a cane can relieve pressure on hips and knees substantially. An increasing array of helpful gadgets, from jar openers to dusters to garden pruners, are available online and at home and hardware stores.
Acupuncture. A meta-analysis of 24 studies found that acupuncture significantly improved pain in people with hip or knee osteoarthritis. If you are considering acupuncture, find a licensed practitioner. Keep in mind that acupuncture isn't covered by Medicare and may not be covered by your insurer either.
Heat therapy. A warm shower or bath can work wonders anytime, especially before and after exercising. Hot packs and moist/dry heating pads, or even a folded towel warmed in the oven or microwave, can offer instant relief.
Cooling. Gel-filled cold packs, coolant sprays, ice chips in a plastic bag and packages of frozen peas can soothe hot, painful joints. To avoid disrupting circulation to the joint, don't leave them on longer than 20 minutes.
Whether you've had arthritis for years or you've just been diagnosed, here are ideas for being proactive about protecting your joints on a daily basis.
Work with a physical or occupational therapist to find ways to eliminate undue stress on affected body parts. Ask your doctor for a recommendation and/or referral.
Concentrate on using larger muscle groups. Whenever possible, use your arms, shoulders, legs and back to reduce wear and tear on your hands, knees and other more arthritis-susceptible joints.
Avoid bending over repeatedly when you work. Keep a small waste basket in your workspace and, as you work, throw in items to be discarded or recycled. Carry the basket with you until your job is finished. Then throw away or recycle all the unwanted items at once.
Walk as you vacuum. Standing still while pushing and pulling the vacuum puts more stress on your back.
Carry items in a backpack, instead of a shoulder-slung purse or bag, to help you keep your balance while walking. AmeriBag makes a stylish, ergonomically designed bag that hugs your body and distributes the weight of the bag across your hips and back. The tendency is to overfill bags, so keep your bag or backpack small and carry only what you really need.
Use an armrest organizer instead of a purse. If grasping the handles of a purse is uncomfortable, the armrest organizer, designed to slip over the arm of a wheelchair or walker, can be carried on your arm instead of in your hands or over your shoulder. Adjust the Velcro fasteners to fit, and the flip-top pouch rests flush against your body, wheelchair or scooter, offering quick access yet secure storage.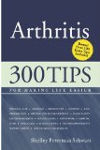 More About this Book
Arthritis
Arthritis: 300 Tips for Making Life Easier is a compendium of tips, techniques, and life-task shortcuts all learned from personal experience. Author Shelley Peterman Schwarz has lived with a chronic...
If you have arthritis, exercise will reduce the pain and disability, partly because it stimulates the production of synovial fluid that lubricates the joints. There's another good reason to stay active! When you have arthritis, you will have less pain if you move your joints frequently; if you are sedentary, your joints will become stiff and even more painful. You may need to switch to forms of exercise that are easier on the joints, such as swimming or bike riding. Regular daily exercise is also recommended in arthritis because it improves overall muscle tone and balance and thus helps remove strain on the joints.
Arthritis tends to make joints even stiffer than what would occur in one's body due to the effects of aging alone. Aerobic exercise is key for maintaining overall musculoskeletal health. With arthritis, you may need to modify what you do to keep active. For instance, swim in a warm pool, cycle or spin to take the load off your leg joints; use the elliptical machine instead of running. The fitness component is also important in maintaining a healthy body weight.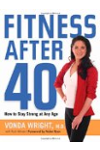 More About this Book
Fitness After 40: How to Stay Strong at Any Age
It's one of the undeniable facts of life. After we reach a certain age, our bodies change. No matter how fit we may have been at 20, we're very different people after 40. But growing older doesn't...
Learning techniques to reduce pain and limitations can be beneficial to people with arthritis and other chronic diseases. Self-management education programs, such as the Chronic Disease Self Management Program (CDSMP), can help you develop the skills and confidence to manage multiple chronic conditions and live well each day in spite of the limitations they cause. Participants in these programs have learned to manage pain and fatigue, and also reduce frustration or worry about their health. Effective, arthritis-focused options such as the Arthritis Self Management Program (ASMP) also are available. Interactive workshops are low cost (about $25 to $35) and available in communities across the country.
Here are some other tips to help you manage your arthritis:
Be active. Research has shown that physical activity decreases pain, improves function and delays disability. Make sure you get at least 30 minutes of moderate physical activity 5 days a week. You can get activity in 10-minute intervals.
Watch your weight. The prevalence of arthritis increases with increasing weight. Research suggests that maintaining a healthy weight reduces the risk of developing arthritis and may decrease disease progression. A loss of just 11 pounds can decrease the occurrence of new knee osteoarthritis.
See your doctor. Although there is no cure for most types of arthritis, early diagnosis and appropriate management are important, especially for inflammatory types of arthritis.
Protect your joints. Joint injury can lead to osteoarthritis. People who experience sports or occupational injuries or have jobs with repetitive motions like repeated knee bending have more osteoarthritis. Avoid joint injury to reduce your risk of developing osteoarthritis.
Continue Learning about Living With Arthritis