If you love to knit, crochet, sew or be crafty but find standard methods and tools too hard to use, don't give up on your favorite pastime, just change your tools and techniques.
Use bamboo, soft touch, circular and lighted knitting needles and crochet hooks. Bamboo hooks and needles are lightweight, and their natural surface holds the yarn just enough to keep stitches even. Circular needles help to support some of the weight of your project. Wrap a rubber band around the handle of your crochet hooks or purchase flexible, flattened square crochet hooks or hooks that are ergonomically designed to be easier to hold and eliminate stress on the hands and joints. If you find yourself straining to see what you are working on, hooks and needles with lighted ends may ease the strain on your eyes. Also, try working with wool or wool blend yarns, which are more elastic and forgiving that cotton and synthetic fibers. Specialty hooks and needles are available at fine craft shops.
Use an embroidery hoop with clamps. Put your embroidery or needlepoint work in the hoop, attach it to a table or chair and it greatly reduces the stress on your hands. Try leather or rubber fingertip thimbles to loosen your grip on the needle. Also, try working on a broader linen weave that is easier to both see and push the needle through.
Use a hanging magnifying glass. To help you see what you are working on, without getting a crick in your neck, try wearing a magnifying glass specially designed to hang around your neck. Find these unique products at sewing or craft stores.
Place your portable sewing machine on an adjustable ironing board. This will allow you to adjust the height of the machine for maximum comfort. An adjustable ironing board can be a wonderful work surface for many projects.
Avoid bending to pick up pins. A magnetized screwdriver, reacher or yardstick with a magnet glued to the bottom will pick up steel straight pins and other metal objects without bending.
Sewing and mending are easier if you use lightweight electric scissors and either straight pins with large balls on top or glass-headed quilting pins.
Use a potato to thread needles. To make it easier to thread a needle, stick the needle into an apple or a potato and place it on a shelf or counter that's at eye level. Then, you can easily see to thread the eye. Or, you might purchase self-threading needles. Rethread needles as soon as the thread is used up so your needles are always ready to use. Self-threading needles are available at fabric stores.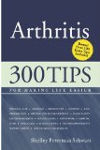 More About this Book
Arthritis
Arthritis: 300 Tips for Making Life Easier is a compendium of tips, techniques, and life-task shortcuts all learned from personal experience. Author Shelley Peterman Schwarz has lived with a chronic...
Continue Learning about Living With Arthritis