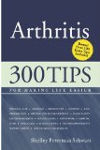 Use a revolving tie rack to organize necklaces. They hang tangle free, are easy to select and retrieve and can be dusted with a feather duster.

Organize small earrings in stacking ice cube trays. For easier access, you can attach clip-on earrings to a cake cooling rack that is hung on a wall.

Have a jeweler adapt your necklaces and bracelets with toggle clasps. If fastening tiny hooks and clasps on your jewelry is difficult, add a toggle clasp that has a large circle on one end of the chain and a thin bar on the other end. To fasten, you simply slide the bar end through the circle.

Magnetic clasp converters are an inexpensive alternative to hard-to-fasten jewelry clasps. No restringing is necessary; simply attach your jewelry's clasp and jump ring to the magnetic clasp and you're done -- putting on your jewelry is a snap. Available in gold-tone or silver-plated at most hobby and jewelry stores.