Every joint has a normal range of motion. Knee extension is the motion of making the joint angle larger, or in this case straightening the knee. Knee extension occurs when we stand up from a seated position.
A knee extension is a resistance training exercise in which a load is placed on the shin and from a seated position, you contract your quadriceps muscles to extend the lower leg until the whole leg is sticking straight out. To perform a knee extension sit down in a machine or strap a weight to the ankle and sit down in a chair with your knee bent at approximately no degrees. Keep your spine and head in neutral alignment, contract your thigh muscle until your leg is completely straight, then slowly relax your thigh to bring your leg back to the original position.

Knee extension works your front thigh muscles (quadriceps). You will need ankle weights—strap-on cuffs with pockets that hold weighted bars. You can start with weights as light as one pound and keep adding more gradually as you become stronger.
Start by sitting in a chair with only your toes touching the ground. (Sit on a pillow if you need to be higher).
Extend your left leg out as straight as possible as you count to three. Pause for one second and then lower the leg slowly back to the starting position, counting to four.
Do this 12 times with the left leg. Repeat with the right leg 12 times. Rest for 30 seconds and then do each leg 12 times again.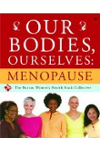 More About this Book
Our Bodies, Ourselves: Menopause
FROM THE EDITORS OF THE CLASSIC "BIBLE OF WOMEN'S HEALTH," A TRUSTWORTHY, UP-TO-DATE GUIDE TO HELP EVERY WOMAN NAVIGATE THE MENOPAUSE TRANSITION For decades, millions of women have relied on Our...
Continue Learning about Leg Exercises