Here's how to do the wall shin raises exercise:
1. Stand with your back and shoulders against the wall, with your feet shoulder width apart and about one foot in front of the wall.

2. Raise your toes as high off the ground toward your body as you can with your weight on your heels.

3. Slowly lower your toes until they are almost but not quite on the floor, and then flex them up again. Repeat this ten times.

You will feel the burn in your anterior tibialis muscle in the front of your shin. As you get better at this exercise, you can "pulse" quickly from flexing up and extending your ankle down.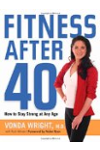 More About this Book
Fitness After 40: How to Stay Strong at Any Age
It's one of the undeniable facts of life. After we reach a certain age, our bodies change. No matter how fit we may have been at 20, we're very different people after 40. But growing older doesn't...
Shin raises can be completed most anywhere but your best area will be somewhere that allows you to be elevated at least 2 inches off the ground:
Find a surface that is elevated
Stand on that surface with your heels on and the balls of your feet hanging in the air
Slowly lift your toes, flexing your feet towards your body
Following, lower you feet back to starting position
Allow your feet to go lower than starting position for full range of motion
Continue Learning about Leg Exercises