Before doing any fitness or exercise activities, a total body warm up period of 5 to 10 minutes is highly recommended. A total body warm up can increase your body elasticity by 20% and get your synovial fluid going in the joints. A better indication to know when you're properly warmed up and ready for exercising, is when you notice sweat/moisture appearing on your forehead, back of hands, or under the nose.
Everybody warms up differently. A great way to warm-up for a bout of resistance training is by performing a dynamic warm-up. A dynamic warm-up moves muscles and joints through their entire range of motion, and prepares the nervous system for what's to come.
To warm up before a weight lifting workout, take 60% of your work weight for each exercise in a given workout and perform three reps at a 1/2 cadence (1 second up, 2 seconds down). This is done to spot joint problems that could cause injuries at higher weights, not to "warm up" per se. Preparation (prep) sets for all exercises should be performed prior to your first real set at 5/5.

In practical terms, the first few repetitions of each work set act as the warm-up.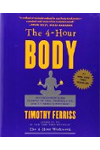 Continue Learning about How to Prepare for Exercise