I often recommend to my patients that they at least try walking. Not only is walking the perfect starting point for people who are not accustomed to any type of physical activity, but it's one of the most accessible forms of exercise around. You simply put on a comfortable pair of shoes (preferably ones made for walking and/or running) and step outside. You can also add as much or as little intensity to your walks as you like. This is done through speed, inclines and declines, and how long you spend walking. Try to walk thirty to forty minutes every day, but if you hate walking, don't do it! Forcing yourself to do anything you don't like is stressful. So if walking drives you crazy, but you love to dance, swim, cycle, run—you name it—you're in business.

From The Mind-Beauty Connection: 9 Days to Less Stress, Gorgeous Skin, and a Whole New You by Amy Wechsler.
Becoming physically active does not require structured exercise in a gym setting. If you're the type of person who dislikes exercising in a gym or health club, try adding fun physical activities to your daily routine such as taking your dog for a walk, riding your bicycle, joining a sports team, dancing, or even playing hide-in-go-seek with your kids. Most forms of physical activity can tremendously affect your health and well-being reducing your risk for chronic disease and add years to your life.
If you're planning on starting a structured exercise program try the following to give you an extra boost:
Start slow and progress according to your abilities.
Invite a friend or loved one to join you.
Hire a personal trainer.
Listen to your favorite music during exercise.
Join an exercise class with people of similar interests and fitness level.
The top two tips to begin exercising: 1. make it fun and 2. incorporate it into your day.
If it's not fun then you probably won't want to do it. Find something you really enjoy, for example, dancing, grab a friend or family members and go do it! Doing something you enjoy with people you like is a great way to start.
Incorporate exercise into your day. Park your car a little further away from your office and take the stairs. Maybe you can use 15 minutes of your lunch break to get outside for some fresh air and a walk. You may even be able to invite some co-workers to come along.
Once you start to see the benefits you will want to add additional activities and invest more time.
A fabulous way to begin exercising is to choose an activity that you actually enjoy and then do it! Nike's advertising campaign of "Just Do It" really hits the mark because all the best intentions mean little if you aren't out there putting your plans into motion. Start with walking around the block or doing sit-ups during commercials while watching television. Focus on making just one meaningful difference and soon you'll be encouraged to make more.
Ok here comes my outside the box thinking.

In my opinion the best way to begin exercising is to take a step back and spend some quiet time developing a vision. Ask yourself one question "If failure was not an option what would I want to accomplish?"

Most people will begin with a strategy and plan but think about this for a second. Your strategy is like a GPS device, how good is that GPS device if you do not know where you are going? The GPS device is only as good as the vision as knowing where you are going. Once you know where are going then the device or strategy becomes important.

The most important thing you can do is spend quite a bit of time narrowing your vision for exactly what you want to accomplish. Then share that vision with friends, family and fitness professionals and get their feedback. Upon your vision and their feedback you will be able to have a clear vision to your goals, once that happens you are in a much better place to begin exercising because you know where you are going.

Also do not limit yourself to just losing weight or toning up. Dig deeper and clearly look at how much, how long or exactly how you want to look and in how long. Don't settle for surface visions, go deep because that is where clarity is.
Do not run out and try to make up for lost time. Begin with walking as far as you comfortably can. Remember, "No pain, no gain" is stupid. Pain is your body's way of saying, "Don't do that." Walk so that you feel 'good tired' at the end of the walk and then better the next day. You can then increase your walking by one minute each day as long as it continues to feel good to do so. When you are up to one hour of walking a day, you can begin to increase the intensity with exercises like bike riding, rowing, etc. I do not recommend jogging on hard surfaces because I think this is not healthy for our musculo-skeletal system. Use your will-power to go out and begin the exercise. Then focus on having fun (I used to jog to the Haagen-Dazs ice cream store). Feel free to "stop and smell the roses," blow on dandelions, or whatever feels good along the way. In addition, find a friend to exercise with on a regular schedule. Otherwise, there is a tendency to come up with silly excuses to not exercise.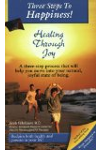 More About this Book
Three Steps to Happiness! Healing Through Joy
Happiness is our natural state of being. It is who we are. This happiness is obvious when you look at little children before they take on society's beliefs. Their natural state is to feel all of...
Continue Learning about How to Prepare for Exercise