Healthy Holiday: A Healthier Spin on 4 Hanukkah Classics
Lighten up your Festival of Lights with these smart twists on traditional recipes.
1 / 5
By Amy Capetta
Break out the menorah—Hanukkah is here! This annual holiday is meant to bring relatives and close friends together to honor age-old traditions, and most celebrations include eight nights of singing songs, playing dreidel—and eating classic dishes that are high in calories and fat!
The good news is that you can enjoy delicious Hanukkah meals without impacting your waistline, or your overall health. Three dietitians tapped into their culinary skills and created slimmer, more nutritious recipes for your holiday table. L'chaim!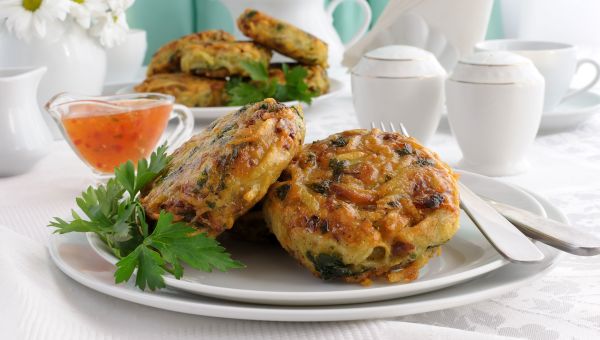 2 / 5

Cauliflower "Hash Brown" Patties

Jackie Newgent, RDN, a culinary nutritionist and author of The All-Natural Diabetes Cookbook, offers another healthful spin on beloved latkes. "Potatoes are a healthy food, but in the form of potato latkes, they become a greasy, high-calorie pick," she says.

Her version swaps starchy white potatoes for cauliflower. "This veggie is notably lower in carbs, which will help your keep total calories in check and prevent carb 'overloading' at your holiday meal," she states. Other nutritious ingredients in her recipe include hemp seeds—high in protein and magnesium—and chia seeds, which are chock-full of phosphorus, calcium and zinc, as well as super-high in dietary fiber.

Ingredients:
1 pound fresh cauliflower florets
1 1/2 tablespoons extra virgin olive oil
1/3 cup raw shelled hemp seeds
1 1/2 tablespoons white chia seeds
3 scallions, green and white parts, minced
2 large garlic cloves, minced
1 teaspoon sea salt, or to taste
1/2 teaspoon minced fresh rosemary
1/8 teaspoon ground cayenne pepper
1/8 teaspoon turmeric powder
2 large organic eggs, lightly beaten
Directions:
Add the cauliflower to a large saucepan, add cold water to cover, and bring to boil over high heat. Reduce heat to medium, cover, and simmer until the cauliflower is fork tender, about 12 minutes. Drain well.
Preheat the oven to 475°F. Line two large baking sheets with unbleached parchment paper.
In a large bowl, mash the cauliflower with the olive oil until mixture resembles extra-lumpy mashed potatoes. Add the hemp seeds, chia seeds, scallions, garlic, salt, rosemary, cayenne and turmeric and stir until well combined. Set aside 15 minutes to allow chia seeds to gel. Stir in the eggs.
Drop the mixture onto the prepared baking sheets using a 1/4-cup dry measuring cup, then flatten the mixture using your fingertips to form 12 (3- to 3 1/4-inch diameter) patties.
Bake the patties for 15 minutes, flip over each patty with a spatula, then bake until golden brown, about 8 to 10 minutes more. Serve warm.
Serves 6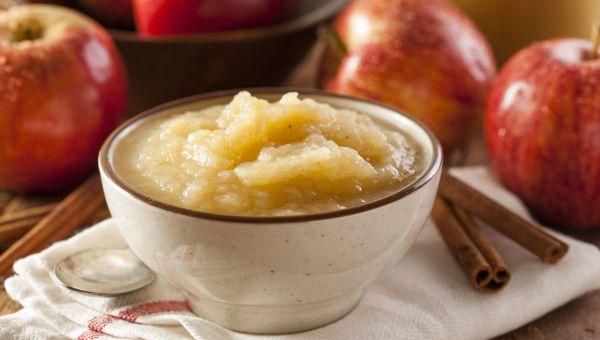 3 / 5

No sugar added applesauce

Apples are the star of many Hanukkah recipes, and for good reason. The fruit contains a good dose of vitamin A, as well as the antioxidant quercetin. In fact, a study published in Stroke: Journal of the American Heart Association, found that adults who consumed the most "white" fruits and veggies, like apples and pears, had a 52 percent lower risk of suffering a stroke than those who consumed the least. Authors speculated the benefit could be due to the antioxidant flavonoids—like quercetin—or fiber in the fruit.

Applesauce is full of nutrients and is the perfect companion to crispy latkas, but jarred varieties often contain unhealthy additives. Avoid eating added sugar by skipping the store-bought stuff and whipping up a batch at home, seasoned with all natural and good-for-you flavors.

Ingredients:
3 pounds cored, diced apples
1 cup water
2 lemon slices
1 teaspoon slices, cinnamon and nutmeg (optional)
Directions:
Add ingredients to a large pot and cook on your stovetop on high heat
Once your mixture comes to a boil, cover and let simmer for 20 minutes, stirring frequently
Remove from heat and mash or blend until smooth
Top with a dash of cinnamon and serve
Serves 8
4 / 5

Simple smoked salmon bites

This crowd-pleasing snack is the perfect addition to your holiday table scape, and is the perfect dish to whip up in a pinch. With just four simple ingredients, this bite-sized appetizer comes together in just minutes. The best part? It requires no cooking.

You can help yourself without feeling guilty, too. Smoked salmon, in addition to loads of flavor, contains protein and healthy fats. Cucumbers are packed with hydration and micronutrients, like vitamin K, which promote bone, brain and heart health.

Ingredients:
2 cucumbers
1 pound smoked salmon
8 ounces cream cheese, softened
4 tablespoons fresh dill, chopped
Directions:
Slice cucumbers into 1-inch disks and lay flat on a serving tray
In a mixing bowl, combine cream cheese and fresh dill
Cup smoked salmon into bite-sized pieces
Top each cucumber slide with about a teaspoon of cream cheese and a piece of salmon
Serves 40 pieces
5 / 5

Chopped Israeli salad

This simple salad recipe combines fresh ingredients with Mediterranean flavors, like olive oil, cucumber and parsley, for a side dish that's sure to please even the pickiest guests. Sans leafy greens, this is a salad experience like no other. Plus, it's so easy to put together. You can even save yourself some time the day of your soirée by making this the night before and storing it in the fridge.

Made with veggies, spices and just a splash of oil, this holiday classic is surprisingly low in calories. Serve alongside lean, grilled protein, or atop a fluffy breakfast omelet; this dish can be enjoyed all day long.

Ingredients:
3 Persian cucumbers, diced
2 Roma tomatoes, diced
½ cup fresh parsley, chopped
¼ cup fresh mint leaves, copped
¼ cup olive oil
Lemon juice, to taste
Salt and pepper, to taste
¼ cup onion, diced (optional)
Direction:
In a large mixing bowl, combine all of your ingredients
Chill and serve
Serves 8