Curb your cravings with these healthy meals selected by a nutritionist.
1 / 8
Autumn brings a mix of seasonal fun, like apple picking, family dinners and back-to-school firsts. It also means the end of Daylight Savings; evenings get darker earlier, making most tasks—especially cooking—feel like a chore.
With an abundance of healthy vegetables and fruits in season, it's easy to keep your health goals on track. Registered dietitian and nutritionist, Kelly Kugler of Holy Cross Hospital in Fort Lauderdale, Florida, shares her favorite fall produce picks along with easy ways to prepare them. 2 / 8

Sweet potatoes

The produce aisle in your local store will be stocked with sweet potatoes from September to March. This classic fall staple is very versatile and can be eaten as a side or used in cold-weather recipes, like stews or soups. Sweet potatoes are high in vitamin C—one cup of canned, mashed sweet potatoes contains 67.3 milligrams. The daily recommended amount of vitamin C per day is 65 to 90 milligrams, so sweet potatoes are an easy way to get your dose. They're also high in fiber, which aids digestive health by keeping you regular. Plus, fiber keeps you feeling fuller longer.

In the early days of fall, you can still get away with grilling, which is a great way to cook sweet potatoes.

Want a side that feels indulgent, but isn't? Prep sweet potatoes fries by cutting diagonally into long strips. Keep the skin on because the peel contains many nutrients and fiber, says Kugler. Stick the strips directly on the grill sans oil. Cook until tender or for 10 minutes at 400 degrees Fahrenheit and serve as a tasty lunch or dinner side.

For something a little bit more flavorful, cut the sweet potatoes into cubes and spread them out on a piece of tin foil. Sprinkle the potatoes with brown sugar, cumin and cayenne pepper. Grill the sweet potatoes for 25 minutes at 375 degrees Fahrenheit, turning them over occasionally until thoroughly cooked. 3 / 8

Roasted cauliflower

Cauliflower, in season from June to November, might look boring when you see it at the supermarket, but think twice before you pass it by. Low in calories and high in fiber—one cup of raw cauliflower contains two grams of fiber and only 16 calories—cauliflower is a great substitute for foods like rice, bread or even steak.

Cauliflower rice is both trendy and delicious. All you really need to make cauliflower rice is a food processor and your favorite herb or veggie to add flavoring. First, cut the cauliflower into one to two inch florets, removing the leaves and the center stalk with a knife. Throw the florets in a food processor and continue processing until finely chopped. Pour the contents onto the stove with some olive oil and stir on medium heat. Add jalapeno or cilantro and a squeeze of lime for zest.

You can also try swapping steak for a roasted head of cauliflower. Simply add spices and a drizzle of olive oil, wrap in foil and roast in the oven for 15 minutes at 400 degrees Fahrenheit. Turn the cauliflower over to the other side for another 15 minutes or until golden in color. Oven roasted cauliflower steaks are deliciously crispy around the edges and meaty in the center.

Pro-tip: Cauliflower can be bland on its own, but when you add some olive oil and whatever spice blend you enjoy, it takes on that flavor and can be a really delicious addition to a meal, says Kugler. Pick spices that don't contain salts like cumin and garlic. "Some have misleading names like lemon pepper, but the first ingredient in the blend is salt," she says.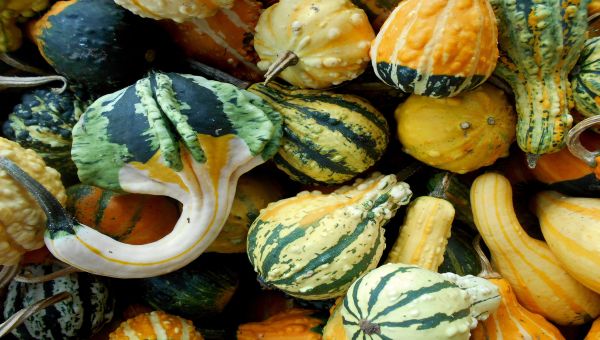 4 / 8

Baked winter squash

Winter squashes have likely caught your eye at the grocery store, from September to March, for their vibrant colors and large size. But did you know that squash is packed with essential nutrients and is super easy to cook? Winter squash has high levels of potassium, which is essential for healthy blood pressure. The recommended amount of potassium per day is 1600 to 2000 milligrams—a cup of cubed winter squash contains 486 milligrams.

Preparing winter squash might seem intimidating, but these tips can help:
Poke holes on the outside of the squash with a fork and then microwave it to for three minutes to soften it up
Cut the squash in half vertically with a sharp knife
Add some spices like paprika or black pepper to the two squash halves
Set the oven to 400 degrees Fahrenheit and roast the squash face down (so that it doesn't dry out) on a piece of tin foil for an hour
Once the inner flesh is dark orange, remove from the oven and either eat it directly from the squash or scoop out the flesh with a spoon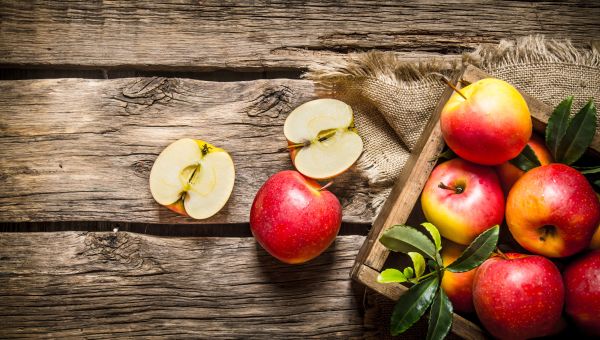 5 / 8

Apples

Trying to curb a sweet-tooth craving? Grab an apple. They're in season year-round, but are especially delicious in the fall. Apples make a healthy, portable snack that's also high in fiber and low in calories.

One cup of chopped apples contains only 65 calories, 17.3 grams of carbohydrates and three grams of fiber. The dietary guidelines for Americans recommends that carbs make up 45 to 65 percent of your daily calorie intake, meaning you should eat somewhere between 225 and 325 grams of carbs each day.

For a healthy snack, dip apple slices into a nut butter or low-fat yogurt. If you're bored of eating apples on their own, blend them in a smoothie.

You can also savor the flavors of fall by whipping up a baked apple. Here's how:
Cut out the core of the apple using a paring knife or an apple corer, while leaving the bottom ½ inch of the apple intact
Stuff the apple with a mixture of walnuts and cranberries; sprinkle with cinnamon and nutmeg
Place in a baking dish and cook at 350 degrees Fahrenheit for 20 to 30 minutes
For a touch of sweetness, add a light drizzle of maple syrup or honey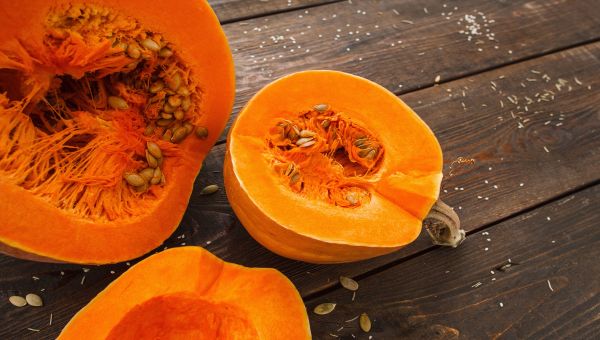 6 / 8

Pumpkins

Pumpkins aren't just for carving—they're a healthy source of carbohydrates that you can find at the store or farmer's market between September and March. The fall fruit only has 0.1 gram of saturated fat.

Pumpkin can be cooked a few different ways. You can sauté it on the stove with olive oil or, for a hearty breakfast, add a dollop of cooked pumpkin to your oatmeal.

If you're craving something more satiating, try this pumpkin chili recipe:
Cut the pumpkin in half; scoop out the seeds to use later
Next, cut into wedges; from there, cut into even smaller cubes
Add the cubed pumpkin, black beans, tomatoes and corn to a big ovenproof pot and cook in the oven at 350 degrees Fahrenheit until the veggies are soft
Lower the heat to 325 degrees Fahrenheit and simmer the veggies for 20 minutes
Serve and enjoy
You can roast the pumpkin seeds you saved to use them in trail mix or add them to the top of a salad. 7 / 8

Cranberries

Cranberries are in season just in time for Thanksgiving, from September to December. Berries that are rich in color, like cranberries, strawberries and blueberries are high in antioxidants and can help slow some of the effects of aging. One cup of chopped cranberries also contains 14.6 milligrams of vitamin C, another type of antioxidant.

Want to try your hand at making granola from scratch? Here's an easy recipe that will only take you 40 minutes:
In a large bowl, blend four cups of rolled oats, 1.5 cups of wheat germ, some chopped walnuts and dried cranberries. Spread the mixture out on an ungreased cookie sheet
In a separate bowl, mix together 1/3 cup of vegetable oil, some honey and a touch of vanilla and cinnamon. Drizzle over the oat mixture
Bake in the oven for 30 to 40 minutes at 300 degrees Fahrenheit. Stir every 10 minutes to make sure the mixture gets toasted evenly
Once cooled, eat plain by the handful or add to a low-fat yogurt 8 / 8

Beets

Beets, in season from June to March, are surprisingly sweet for a vegetable—and they're nutritious. Beets are filled with nitrates, chemical compounds that dilate the blood vessels, easing the flow of oxygen-rich blood to the heart.

Beets are also rich in vitamin C—one cup of raw beets contains 6.7 milligrams. It's especially beneficial to have a vitamin C-rich diet during the fall when there's a spike in the common cold. While the vitamin will not actually reduce the risk of catching the common cold, it can help with symptoms.

"Sometimes with cooking, less is more," says Kelly. Beets are one of those vegetables that are loaded with flavor and don't need much added to them.

The best way to cut a beet is by chopping off the tops and roots with a sharp knife. Then, peel each one with a vegetable peeler. They can be chopped or diced into smaller cubes. When you're done with the prep work, get to cooking. Saute or steam the beets for 15 minutes until they feel tender. Slice and sprinkle with gorgonzola cheese or a handful of walnuts.
Continue Learning about Diet & Nutrition