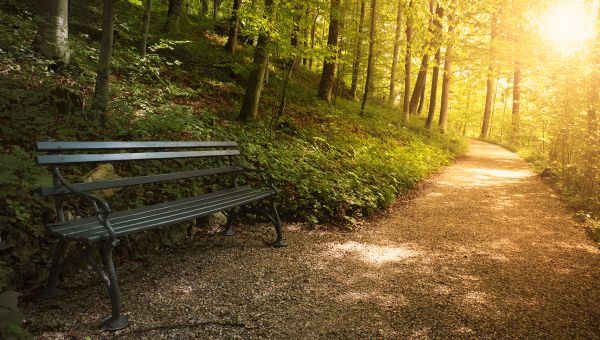 The great outdoors is great for your health.
1 / 6
Poet and writer Ralph Waldo Emerson believed nature was good for the soul: "The happiest man is he who learns from nature the lesson of worship." But nature is also good for the body and the mind, according to a research report called Gallup-Healthways Well-Being Index.
The report details four metrics that comprise the active living within communities in the US: walkability, bike-ability, availability of parks and public transportation system. The parks score may have had the most surprising results of all. Turns out, access to parks influences things, like…
Medically reviewed in March 2020. 2 / 6

Obesity

A high park score is associated with a lower obesity rate, according to the study. A 2015 study presented at the Southern Agricultural Economics Association's annual meeting found that US counties that had more green space had fewer obese people. A 2011 systematic review of studies found that more than two-thirds of the studies reviewed found a link between green space and less obesity or obesity-related health problems. 3 / 6

Diabetes

A higher park score was correlated with lower rates of diabetes for the communities in Gallup and Healthways research; earlier research backs this up. A 2013 study published in the American Diabetes Association's journal Diabetes Care looked at more than 267,000 people in Australia. It found that the rate of type 2 diabetes dropped from 9.1 percent among people who lived in neighborhoods with 0 to 20 percent green space to 8 percent for people in neighborhoods with more than 40 percent. It also found that the risk of developing type 2 diabetes was lowest for people living in areas with 41 to 60 percent green space. 4 / 6

Heart Disease

Communities with a high park score were correlated with lower rates of heart attacks and high blood pressure, according to the Gallup and Healthways report, Active Living Environment in US Communities. According to a 2015 review of studies published in the International Journal of Environmental Research and Public Health, neighborhoods with shade from trees (among other factors) had fewer residents with high blood pressure. Another study in the review found more green space meant fewer deaths from circulatory disease; a third study in the review found that as trees were cut down in a neighborhood, instances of heart disease rose. 5 / 6

Productivity

Even just looking at nature can make you work harder. A 2015 study in Journal of Environmental Psychology suggests that a 40-second break to look at a roof that's been transformed into a natural space increased university students' attention spans, versus looking at a bare concrete roof. The Gallup and Healthways Active Living report seems to agree that nature is good for your work—communities with the highest park scores also had the highest number of people who say they feel active and productive every day. 6 / 6

Mental health

Nature can benefit your mood, too. A 90-minute walk through a park was found to reduce rumination—dwelling on negative thoughts—which is a factor in depression. And, while a high park score in the Gallup and Healthways Active Living research didn't significantly influence depression rates, a community with a high park score had more people reporting they don't experience little interest or pleasure in doing things.
Continue Learning about Healthy Habits