We all have set a goal at one time or another. Whether it's personal finance, diet, exercise, parenting or a career, setting goals is critical for success in anything. But many people fail to achieve their goals. As simple as it seems, people commonly set themselves up for failure by setting goals improperly. There are two very common mistakes made when setting goals:

1. Setting goals that are too general; and

2. Setting goals that are not easily reachable.

Let's take a look at the first mistake. Goals need to serve as a road map for success. They need to be observable or measurable. Diet, exercise, saving and not spending are all concepts; you can't see them or measure them. They simply aren't specific enough. The trick is to turn general concepts like these into "countable" behaviors. Look at these examples below:

General: I want to eat better.
Specific: I will eat five servings of fruit/vegetables each day.

General: I want to exercise more.
Specific: I will start walking five minutes per day and increase by one minute each week until I am walking 30 minutes per day

General: I need to relax.
Specific: I will practice relaxation exercises for 10 minutes, three times a day (before breakfast, after lunch and before bedtime).

You can't count "eating better," but you can count the number of servings of fruits and vegetables per day. You can't count "exercise," but you can count the number of minutes walked.

The second mistake people make is setting goals that are not reachable. Most goals require us to do a new behavior -- whether that's saving money, eating differently, going to bed earlier or exercising. If the behavior is too difficult and we are not successful right from the start, we are not likely to stick with it. It's much better to set an easy goal, achieve it and move forward than to set a goal that you fail at. So when it comes to setting goals there are three steps to take:

1. Pick a general goal.
2. Break the goal down into small, target behaviors.
3. Make sure the goal is reachable.

This strategy will help you set goals that you can and will achieve.
Set SMART goals: Specific, Measurable, Attainable, Relevant and Time-Specific, and phrase them in a positive, growth-oriented way.

Avoid goals that are too generic or indefinable. Setting specific goals, or subgoals, that could be accomplished in 60 or 90-day increments is important.

Measurable means what's measured is what's improved, so if your goal is to lose weight, keep a food diary as a way of self-monitoring.

Attainable is pretty clear -- unattainable is just that.

Relevant means the goal applies to your life and your priorities.

And finally, be time-specific and say, "I will reach this goal in the next year."

A good goal list should only have five to 10 items on it, so write them down. And while conventional wisdom says you should take on one large goal at a time, researchers at the University of Rhode Island have found that a person can be just as successful accomplishing two goals if they are interrelated or complementary, like learning to relax and stop smoking. Many people relax by smoking, so learning to relax makes perfect sense.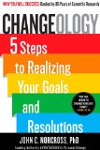 Continue Learning about Healthy Habits