Set SMART goals: Specific, Measurable, Attainable, Relevant and Time-Specific, and phrase them in a positive, growth-oriented way.

Avoid goals that are too generic or indefinable. Setting specific goals, or subgoals, that could be accomplished in 60 or 90-day increments is important.

Measurable means what's measured is what's improved, so if your goal is to lose weight, keep a food diary as a way of self-monitoring.

Attainable is pretty clear -- unattainable is just that.

Relevant means the goal applies to your life and your priorities.

And finally, be time-specific and say, "I will reach this goal in the next year."

A good goal list should only have five to 10 items on it, so write them down. And while conventional wisdom says you should take on one large goal at a time, researchers at the University of Rhode Island have found that a person can be just as successful accomplishing two goals if they are interrelated or complementary, like learning to relax and stop smoking. Many people relax by smoking, so learning to relax makes perfect sense.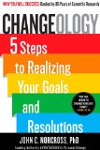 Continue Learning about Healthy Habits