We are the reason that we're unhealthy. Every one of us has some level of control over our own health, but we've been ignoring the root of so many of our health problems: our behavior. With all the talk about increasing health care costs, chronic disease, and diseases caused by lifestyle, there has been little discussion about how people can change their habits to improve their health. We've heard that health habits are important and that we should change them, but how?

The degree to which our behavior affects our health often surprises people. In our work as psychologists, people often ask us about genetics. They say: "Don't genes determine a person's health?" Genetics are important. Your genes set the stage for how behavior affects your health. Think of your genes as the hand of cards you have been dealt. If you have a good set of genes, you can do unhealthy things and still live well. If you were born with a set of genes that make you susceptible to health issues, you need to make the effort to be as healthy as possible, because the cards are stacked against you.

Consider heart disease. It has a genetic component, but behavior can dramatically influence its development. If you have genes that make you susceptible to heart disease and you smoke, drink too much, and never exercise, what will happen? You'll most likely develop serious heart problems. If you have the same genes and you keep your weight in check, exercise, drink in moderation, and don't smoke, you may never have heart problems. We can say the same thing about diabetes, obesity, and many other conditions.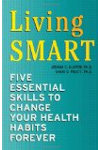 Continue Learning about Healthy Habits