The foundation of your diet should be high-quality protein, fats and nonstarchy vegetables that don't spike blood sugar or insulin. The reasons are simple: these are the types of foods that not only reignite your metabolism, calm body-wide inflammation, and crush cravings, but also fill you up. Remember it is very hard to control how much you eat, but easy to control what you eat. It is the quality of the food and the composition of your meal that matters most in reversing weight gain and creating health. More About this Book
The Blood Sugar Solution 10-Day Detox Diet Cookbook: More than 150 Recipes to Help You Lose Weight and Stay Healthy for Life
The companion cookbook to Dr. Mark Hyman's revolutionary weight-loss program, the #1 New York Times bestseller The Blood Sugar Solution 10-Day Detox Diet, with more than 150 recipes for immediate results! Dr. Hyman's bestselling The Blood Sugar Solution 10-Day Detox Diet offered readers a step-by-step guide for losing weight and reversing disease. Now Dr. Hyman shares more than 150 delicious recipes that support the 10-Day Detox Diet, so you can continue on your path to good health. With easy-to-prepare, delicious recipes for every meal - including breakfast smoothies, lunches like Waldorf Salad with Smoked Paprika, and Grass-Fed Beef Bolognese for dinner -- you can achieve fast and sustained weight loss by activating your natural ability to burn fat, reducing insulin levels and inflammation, reprogramming your metabolism, shutting off your fat-storing genes, creating effortless appetite control, and soothing stress. Your health is a life-long journey. THE BLOOD SUGAR SOLUTION 10-DAY DETOX DIET COOKBOOK helps make that journey both do-able and delicious.
A healthy diet includes generous amounts of fruits and vegetables. In this video, I will say that half your plate should be fruit and vegetables, a quarter whole grains and a quarter lean meat.
When considering healthy eating, consider the old definition of the standard grain-based diet and the tenets of my nutrient dense vegetable-based eating style:
High-Nutrient Diet:
Vegetable-based
Lots of beans, nuts, and seeds
At least four fresh fruits daily
Oils used sparingly
Animal products minimized (zero to five times a week)
Focused on nutrient-dense calories
Standard Diet:
Grain-based
Lots of dairy and meats
Lots of refined sweeteners
Oils used liberally
Animal products emphasized (two to three times a day)
Focused on nutrient-poor calories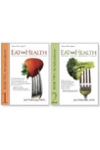 Continue Learning about Healthy Eating Guidelines