As one of the most ancient cultivated grains in the world, barley originated in Ethiopia and Southeast Asia, where it has been cultivated since 8000 B.C.E. It is thought that post-Ice Age climatic changes, plus barley's development of a hardened rachis, which prevented early grain scattering, allowed for better barley cultivation.

As one of the first cereals cultivated in the Middle East, barley was used by ancient civilizations as a food for humans and animals, as well as to make alcohol. Actually, the first known recipe for barley wine dates back to 2800 B.C.E. in Babylonia. Barley water has also been used for various medicinal purposes since ancient times.

The ancient Greeks relied on barley to make bread, and athletes attributed much of their strength and physical growth to their barley-containing diets. Roman athletes also honored barley for the strength it gave them. The gladiators were known as hordearii, meaning "eaters of barley". Since the heads of barley are heavy and contain numerous seeds, barley was also honored in ancient China as a symbol of male virility.

Given the relatively high cost of wheat in the Middle Ages, many Europeans at that time made bread from a combination of barley and rye. In the 1500s, the Spanish introduced barley to South America. The English and Dutch settlers of the 1600s brought barley to the United States.

Today, the largest commercial producers of barley are Canada, the United States, the Russian Federation, Germany, France, and Spain.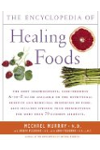 More About this Book
Encyclopedia of Healing Foods
From the bestselling authors of The Encyclopedia of Natural Medicine, the most comprehensive and practical guide available to the nutritional benefits and medicinal properties of virtually everything...
Continue Learning about Health Value Of Foods