Dietitians Share Their Favorite Snacks to Order on Amazon
Healthy, delicious and delivered right to your door.
Medically reviewed in August 2020
Updated on January 22, 2021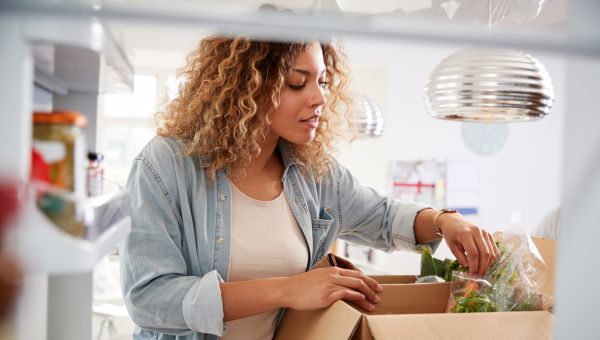 1 / 11
When hunger strikes, most of us reach for what's convenient. Luckily, there are plenty of great snack options that fit into a healthy eating plan—and you don't even have to leave home to pick them up.
These days, you can get pretty much any snack you need online. Depending on your delivery method and location, they can be at your doorstep in a matter of days, or even hours.
With the help of two top nutrition experts, we selected 10 of the tastiest low-calorie snacks available on Amazon to stash in your pantry, work desk or purse. 2 / 11
ZINKE ORCHARDS ALMOND BUTTER
Though almost any type of nut butter is available on Amazon, it can be tough to find one without added oils or added sugars. Thankfully, whether you choose creamy or crunchy, Zinke Orchards Almond Butter has a short ingredient list: just dry roasted almonds.
This almond butter contains 182 calories, 0 grams of natural sugar and 5 grams of protein per ounce, making it the perfect choice for an energizing afternoon snack. Almond butter also contains about 10 grams of healthy monosaturated fat per serving, which can help lower cholesterol levels and keep you feeling satisfied.
Nut butters pair well with apples and bananas, says Susan Kleiner, PhD, a registered dietitian, author and owner of High Performance Nutrition, a consulting firm in Mercer Island, Washington. They also work well mixed into yogurt and oatmeal.
A word of caution: Almond and other nut butters can be high in calories, so stick to a single serving. 3 / 11
THINK JERKY
Another protein-packed and portable snack is jerky. Be sure to check the label to make sure your pick is free of nitrates, nitrites and artificial ingredients.
The good news is that reading nutritional labels online can be just as easy as doing so in-store. Kleiner likes the ease with which she can study the ingredients and nutritional information of various products. "You can do side-by-side comparisons," she says.
A number of jerky companies, including Think Jerky, prioritize natural ingredients, without lots of salt and sugar. Their meat jerkies are sold in single-serve packages on Amazon and come in a variety of flavors, including sweet chipotle, sesame teriyaki, sriracha honey and classic.
Per 1.5-ounce serving, Think Jerky contains about 100 calories, 2 grams of fat, 16 grams of protein and 6 grams of sugar or less. Each bag contains between 380 and 390 milligrams of sodium, which is lower than many other brands. And since jerky contains a heathy portion of your daily recommended protein, it can help keep you full between meals. 4 / 11
RXBAR REAL FOOD PROTEIN BARS
Protein bars often claim an aura of healthfulness, but one look at the ingredients of many brands reveals they're not as nourishing as they claim to be. They may be packed with excess sugar and unnatural ingredients, for instance.
RXBAR protein bars stand out among the rest. Recommended by LeeAnn Weintraub, RD, a nutrition counselor and cookbook author based in Los Angeles, California, each bar contains 12 grams of protein and a short list of ingredients, like egg whites, almonds and dates. They're available in a variety of flavors, too. Chocolate sea salt, peanut butter, blueberry and mixed berry are just a few options. 5 / 11
THAT'S IT. FRUIT BARS
If you're in a rush, a That's it. fruit bar makes it simple to satisfy a sweet tooth while getting your recommended daily serving of fruit. What makes these bars special is that they don't have any other additives.
"They have two fruit ingredients, like apple with strawberry or apple with pineapple and no added sugar or preservatives," Weintraub says.
Each bar contains about 100 calories and between 2 and 5 grams of fiber, which can aid in digestion, help control cholesterol levels and promote weight loss. Stow these bars in your bag for wholesome snacking anywhere, anytime. 6 / 11
BARE SNACKS APPLE CHIPS
Dried fruit is delicious and portable, but many brands sweeten their products with added sugars. Bare Snacks keeps their formula simple. In fact, most varieties of their apple chips are made with one ingredient: apples. Per 1/2-cup serving, this snack contains 110 calories and about 4 grams of fiber.
Bare also has other baked fruit chips, such as coconut, banana and strawberry. Eat them by the handful, sprinkle them in your salad or create your own trail mix with a variety of nuts. 7 / 11
THE GOOD BEAN CHICKPEA SNACKS
Recommended by Kleiner, The Good Bean roasted chickpeas are great when you're craving a crunchy snack. Flavors include sea salt, chili lime, sweet sriracha and classic hummus.
Each 1-ounce serving contains 5 grams of protein, 120 calories and 5 grams of dietary fiber. Most of the fiber is insoluble, which may speed digestion. Watch how much you eat, though—a single portion contains between 100 and 185 milligrams of sodium.
If you're looking to control your salt intake, crispy chickpeas are also easy to make at home. First, drain, rinse and completely dry a 15-ounce can of chickpeas. Then, transfer them to a baking sheet and sprinkle with a little olive oil, a pinch of salt and any other spices or flavorings you like—cumin and lime work well together, for example. Finally, roast at 400°F until the chickpeas are crispy, shaking the pan every few minutes. They should be finished in about 20 to 30 minutes. 8 / 11
SKINNY POP
Popcorn can be a healthy, fiber-filled, whole-grain snack—as long as you hold the butter and other additives. "Don't get ones that are doused in all kinds of things," cautions Kleiner.
Many bags of pre-popped or microwave popcorn typically contain more than one serving and a lot of added sodium or sugar. If you're not careful to measure the proper portion, it can be easy to overeat. "Snacking can help prevent overeating at meals, but it can also lead to extra calories when the amount or type of snack isn't controlled," says Weintraub.
Weintraub has a solution: Instead of grabbing handfuls of popcorn out of a large container, measure one serving into a separate bag or bowl. You can also buy single-serve packages, such as 100-calorie bags of Skinny Pop popcorn. Each serving contains only a handful of ingredients, a bit of fiber and minimal sodium, between 48 and 61 milligrams.
Even better—make your own popcorn from scratch. You can pop on your stovetop using about 1 tablespoon of cooking oil and 1/3 cup of popcorn kernels. Cook on medium-high heat in a covered pot until the popping sounds are 2 to 3 seconds apart. Then, remove from the heat and dress the popcorn up with spices and herbs. 9 / 11
OLOVE OLIVES
Olives are a good source of healthy fats. Per 1-ounce serving, they contain about 4 grams of fat, most of which are monounsaturated. This type of fat can help lower levels of LDL (aka, "bad" cholesterol) and promote a healthy heart.
While they're easy enough to transport in a small bag or airtight container, olives typically don't keep well outside of the refrigerator. Thankfully, Olove Olives come in shelf-stable packs.
Each 1.1-ounce pouch contains around 50 calories and 5 grams of good-for-you fats. There are four flavors to choose from: basil and garlic, chili and oregano, lemon and rosemary, and chili and garlic. 10 / 11
STARKIST TUNA CREATIONS
Canned tuna makes a convenient, high-protein meal or snack option, but most of us don't carry around a can opener. StarKist Tuna Creations pouches might be the perfect solution. These single-serving packets come pre-flavored, with seasonings like lemon pepper and garlic and herb. Best of all, they don't need to be drained.
Most flavors contain between 70 and 110 calories and 14 to 19 grams of protein. Snag a variety pack and add a pouch to a leafy salad, whole grain sandwich roll or multi-grain crackers. Another option: Dig right in with your fork. 11 / 11
GREEN & BLACK'S DARK CHOCOLATE
Every healthy eater needs a treat—and dark chocolate could be a way to fill a craving for sweets. The cacao in dark chocolate contains flavanols, compounds that may improve blood flow and lower blood pressure levels. The higher the cacao percentage, the more powerful the benefits.
Buying the good stuff is as simple as adding a bar of Green & Black's dark chocolate with 70 percent cacao to your cart. This treat contains five simple (and organic) ingredients and about 180 calories per ounce. Remember, though: Dark chocolate is high in fat—both good and bad—so it's best to stick to one serving. Replay Slideshow
Slideshow sources
American Heart Association. "Polyunsaturated Fat." 2021. Accessed January 13, 2021.
American Heart Association. "Monounsaturated Fat." 2021. Accessed January 13, 2021.
S Hull, R Re, et al. (2015). "A mid-morning snack of almonds generates satiety and appropriate adjustment of subsequent food intake in healthy women." European journal of nutrition, 54(5), 803–810.
L Chambers, K McCrickerd, M Yeomans. "Optimising foods for satiety." Trends in Food Science & Technology. 2021. Accessed January 13, 2021.
Mayo Clinic. "Nutrition and healthy eating." January 6, 2021. Accessed January 13, 2021.
MedlinePlus. "Soluble vs. insoluble fiber." June 21, 2018. Accessed January 13, 2021.
FM Sacks, AH Lichtenstein, et al. "Dietary Fats and Cardiovascular Disease: A Presidential Advisory From the American Heart Association." Circulation. June 15, 2017. 136:e1–e23.
Harvard Health Publishing. "The truth about fats: the good, the bad, and the in-between." December 11, 2019. Accessed January 13, 2021.
Academy of Nutrition and Dietetics. "Choose Healthy Fats." August 6, 2019. Accessed January 13, 2021.
Harvard TH Chan School of Public Health. "The Nutrition Source: Dark Chocolate." 2021. Accessed January 13, 2021.