In addition to a healthy dose of vitamin A as betacarotene, pumpkin also provides the eye-healthy phytochemicals lutein and zeaxanthin. It's also one of the best sources of beta-cryptoxanthin, a carotenoid linked to lower risks of lung and prostate cancer, as well as to improved joint health. A British study found that people with the highest intake of beta-cryptoxanthin had half the risk of developing polyarthritis (inflammation affecting two or more joint groups) than those with lower consumption levels.
Pumpkin contains fiber, potassium, the antioxidant beta-carotene and vitamin A. Scoop out the inside and take advantage of the many dishes that can be made with fresh pumpkin. Finally, don't forget the seeds. Roast them in the oven with a small amount of olive oil for a crunchy source of protein and iron.
Pumpkins are rich in potassium, and the bright orange flesh is loaded with beta-carotene. Further, they contain many common nutrients, like iron, zinc and fiber. With their high content of lutein and zeaxanthin, which scavenge free radicals in the lens of the eye, pumpkins help prevent cataracts and macular degeneration. Finally, because of its low calorie content, pumpkin is also the perfect fit for losing weight.
This content orignally appeared on doctoroz.com.
Pumpkin is full of healthy antioxidants and may help fight many cancers, particularly lung cancer. Pumpkin is a good source of potassium and heart-healthy dietary fiber.
You can bake pumpkin chunks, as you would butternut squash, and serve it with some butter or brown sugar. Or purée it for use in breads, pumpkin brownies, and pumpkin muffins.
This content originally appeared on doctoroz.com.
Squashes like pumpkin were one of the first domesticated plant species. Pumpkin is a diuretic, used to treat kidney problems, constipation, heat stroke, irritable bladder and prostate problems. The presence of zinc helps to boost the immune system. Marinated in a syrup, pumpkin is good for regulating the bowels and controlling stomach acid in gastritis or ulcers. The tasteless white pumpkin known in India as petha is used there to cleanse the gastrointestinal tract during fasting. Its juice is recommended during a prolonged fast (7 to 10 days) to neutralize the enzymes and detoxify the body.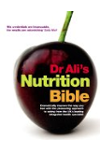 More About this Book
Dr Ali's Nutrition Bible
Each of us is unique, so it makes sense that no single diet will work for everyone. In the "Integrated Nutrition Bible", physician to the stars and best-selling author Dr. Ali offers a pioneering new...
Continue Learning about Health Value Of Foods