If the doctor you want doesn't take your health insurance plan, you still have some options. Check your plan or call your health insurance customer service department to see if you have out-of-network coverage. In some cases, you may be able to appeal to your health insurer to cover a specialist who isn't technically in the network. There's always the option to pay yourself -- but remember, many plans have an annual cap on out-of-pocket expenses.
If the doctor doesn't accept your insurance but he or she is really your top choice, don't give up. Call the insurance company, and ask if it would consider adding this doctor to its list. If it won't, ask why. Sometimes, if even just a few patients call and ask the insurer to add a doctor, it will.

Likewise, ask your doctor if you could convince him or her to begin accepting your insurer. And every year when you renew your health insurance (a lovely period in November called "open enrollment" by most employers), call your doctor and make sure he or she intends to keep accepting this insurance plan.

When we're deciding which insurance carriers we'll work with, doctors can be swayed by just a few small factors—and if dropping a plan will create big problems for two or three regular (and well-liked) patients, that can carry weight. So speak up.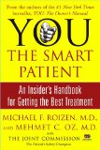 Continue Learning about Health Insurance