Medications, drugs, medicines - are known and have shown to improve the quality of people's lives, but they can also pose serious risks, particularly if not taken correctly. Pharmacist regardless of setting - retail, drug stores, hospital, ambulatory care, long term care, consulting, academia, government, etc., as a member of your health care team, is extensively trained to help you get the benefits of medicine while reducing drug related problems & risks as much as possible.
By partnering with a local pharmacist whom you trust, just as you would choose a doctor or nurse practitioner you can build a long-term relationship. The role of pharmacists has grown and changed to help patients cope with a complicated health care system.
Pharmacists are medication experts; they have undergone extensive education in the science of how the human body uses and responds to medicines, and have also built up years of experience in real-life counseling on how to take medicines safely.
Pharmacists checking each prescription to help ensure that:
The information provided by the prescriber is complete.
The new medication will not interact with anything else they know you are taking.
The medication and dosage are safe with any medical conditions that they are aware you may have.
You understand how to take and store the medication properly.
In addition, pharmacists can play a valuable role in helping to manage your overall health care by addressing drug related problems and saving healthcare dollars in the process. To find out how your pharmacists can save you, refer to these 5 tips - given by a clinical pharmacist.
http://www.learnvest.com/2012/03/save-money-on-prescription-medications-with-these-5-tips/
Finally, your pharmacist is a resource and an educator for you and your family. He or she can answer many of your questions about your health and medicines. By getting to know you and your medication profile, your pharmacist can:
Warn you of possible harmful drug interactions or allergies.
Tell you about potential side effects.
Advise you on drug-foods, drug-drug, drug-drinks, drug-herb, drug-OTC interactions, or activities to avoid while taking a certain medication, or on what to do if you miss a dose.
Tell you when a concern you've raised requires a call to your doctor.
Your pharmacist is the least expensive and most accessible health resource you have. You can drop in to see him or her anytime you want, without an appointment. All consultations are free. In medicine, that's something extraordinary.

Your pharmacist has an amazing wealth of knowledge at her fingertips, which can mean at your fingertips. Many also have access to new technology that can answer questions (such as, is it safe to take this brand new medication with this even newer medication?) in a blink.What's more, they see patients with similar conditions using different medications every single day. They see patients with side effects, and they know which side effects could mean serious trouble, rather than just more time in the bathroom.

To put it simply, pharmacists know many things that you—and your doctor--don't know. Most physicians take only one or two courses on pharmacology in medical school. The rest we learn from journals, from experience with patients, and from daily visits by pharmaceutical salespeople (thanks for the coffee mugs).

You should be on a first name basis with a good pharmacist. At some point two years from now, he may mutter to himself, "Hmmmm…Jane's doctor has never prescribed this before, and it doesn't seem right, so I'd better shoot that doctor a call."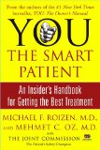 Continue Learning about Healthcare Basics