How does having genital herpes affect my relationships?
Many worry about the future of their love life after a genital herpes diagnosis. They wonder how they'll share the information with new partners. Or they worry about passing herpes on to a partner.

The fact is, everyone has past complication that's going to come up with a new partner. Dating and mating with genital herpes simply requires a little more planning and a lot more education --for both partners. It's important for someone with herpes to learn about how to minimize the chance of passing herpes to a partner and put these practices to work in his or her sex life. And there's no reason to talk with a new partner about herpes until you think you may be heading for a sexual relationship.

Some are open-minded about dating someone with herpes, while others are not. Herpes simply becomes one more bit of information evaluated for compatibility and a shared willingness to move forward with the relationship. If you simply feel too uncomfortable with the thought of discussing herpes with an unaffected partner, consider online support groups where those with herpes meet each other, both for friendship and dating. These sites can be a good way to ease back into the world of dating.
Continue Learning about Genital Herpes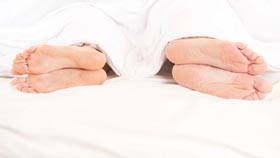 Genital herpes is a sexual transmitted infection that can cause sores or blisters around the genitals. Learn more from our experts about genital herpes.