Gluten intolerance typically presents with gastrointestinal symptoms like stomach upset, diarrhea, etc., but there have been many patients who have complained of a persistent cough. The cough diminishes when they pay attention to what they eat and they lower their intake of gluten.

Continue Learning about Food Allergies & Food Intolerance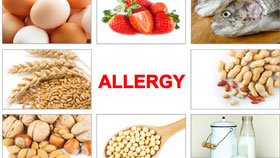 Food allergies occur when the body attacks a food it mistakes as harmful, causing symptoms such as nausea, stomach pain, diarrhea, shortness of breath or hives. With food intolerance, the digestive system alone rejects the food, f...
inding it difficult to digest properly. Foods such as peanuts, shellfish, eggs, soy or wheat are the most common type of food allergens.
More