Your skin gives you the sense of touch through the myriad nerve endings all over your body. Touch is the first of the five senses to develop in a human embryo. The skin tells your brain about sensations both pleasurable and painful by transmitting messages along a pathway of nerve receptors. Touch has been shown to play a crucial role in physical and emotional health. Nervous and cutaneous tissues in fact share the same embryological origins, which is why stress can cause skin problems.
Your sense of touch originates in the bottom layer of the skin called the dermis. The dermis is filled with many tiny nerve endings which give you information about the things with which your body comes in contact. Your body has about twenty different nerve endings in the skin that tell you if something is hot, cold, or going to hurt you. The nerve endings convey this information to the brain and spinal cord, also known as the central nervous system (CNS), to areas where we perceive the stimuli. To accomplish this, the nerve endings of the sensory receptors convert mechanical, thermal, or chemical energy into electrical signals.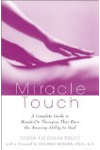 Your skin contains tiny nerve endings that create your sense of touch. When you experience sensations such as pain or heat or cold, or feel things that are soft or sticky or sharp, the bottom layer of your skin, called the dermis, sends messages to your brain about the sensation.
Continue Learning about The Five Senses