Setting goals is central to making physical activity a permanent lifestyle change.

An integral part of goal setting is being able to visualize who you are once the goal that you've set for yourself has been achieved. This starts with vision planning. For example, you might envision yourself in three months time as being 20 pounds lighter, engaging in physical activity on most days of the week, being more energetic as well as preparing healthly meals for breakfast and dinner. You can call that your three-month outcome. From there you can make specific, measurable, action-based, realistic time-based goals on a weekly basis that will move you toward your vision. Ask yourself, what behaviors can I see myself doing consistently over a specific period of time in order to get to my vision.

If you can see where you are headed, it becomes easer to set achievable exercise goals.
Exercise goals help boost confidence and self esteem and allow you to see progress. In setting goals it's important to think realistically (doing some exercise but not too much exercise) about setting 2-3 small, short term goals that come out of your long term goals: losing weight and the ability to be active with my family. A short term goal might include: losing 1 pound a week by deleting 1 sweet from your diet and adding 1 more serving of vegetable. Those goals should include intent (intending to go to the gym) and effort (I was able to climb one or two more stairs). As you find yourself reaching one goal you'll find your confidence increasing to reach the next goal. You will also need to take into consideration what 'things' help you to exercise: groups, friends and family and what 'things' get in the way of exercising: time, energy, work and motivation. Once you are aware of what things you need to exercise and what gets in the way you are better able to incorporate those into your goals to help you move forward and build confidence. For example, if you don't like to workout alone then it's important to be aware of that, add that to your goals and find someone to workout with you. If work is a barrier to exercise, add that to your goals and find a way to either incorporate exercise into your work or add it before or after your work.
Setting small and attainable goals makes achieving fitness more manageable and less daunting of a task. Much like a house is built in stages, health is a series of steps and goals. By creating clear and manageable goals it creates a clear path and something to focus, each goal you achieve will give you more confidence and encourage you to continue in your quest for fitness. Having goals also helps achieve results since focusing on nothing or everything all at once will not allow you to achieve much success. By focusing on specific goals you will achieve better results than having no goal at all. Start by setting one specific and attainable goal like working out a specific number of times a week, or increasing your walking or running time, then when you've achieved that goal create another one.
It's important to integrate into our lives a combination of aerobic exercise, which increases the capabilities of the heart and lungs, and strength training, which develops muscles and bone strength. Exercises designed to enhance flexibility are useful as a cooldown. Balance training exercises may help prevent falls. Some activities such as yoga and tai chi develop flexibility, balance, and strength, in addition to their many other positive attributes. The aim is to reap health benefits from regular, repeated exercise—exercise that has become a habit.
The best way to make exercise a habit is to start with an activity that's readily available and that you can enjoy or at least tolerate. Then, set specific goals for yourself. These goals should be reasonable, especially if you've never exercised in your life. An example of a reasonable goal is, "I will walk around the neighborhood for 15 minutes after dinner three times a week for a month".
Keep track on paper how you're doing each week. Write down when you exercised, what you did, and how you felt. Note the times when you don't meet your weekly goal, but don&apost let yourself get frustrated by them. If you miss a session, don&apost let the negative voice inside your head tell you that you have blown it and you might as well give up. Stay focused and confident about meeting your goal the next week. When the first month is over, evaluate if you need to continue on this first step or are ready to add more time or intensity.
Every single time you exercise, you are succeeding. Every success edges you closer to the goal of physical fitness. There is no such thing as a step backward as long as you keep trying to exercise.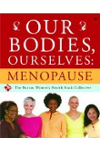 More About this Book
Our Bodies, Ourselves: Menopause
FROM THE EDITORS OF THE CLASSIC "BIBLE OF WOMEN'S HEALTH," A TRUSTWORTHY, UP-TO-DATE GUIDE TO HELP EVERY WOMAN NAVIGATE THE MENOPAUSE TRANSITION For decades, millions of women have relied on Our...
Continue Learning about Fitness Goals