There are many reasons people don't enjoy exercise. The biggest reason people don't enjoy exercise is because it's uncomfortable. Another reason many people do not enjoy exercise is because they've set unrealistic goals and set themselves up for failure. To enjoy exercise it's important to recognize that not all exercise is uncomfortable or as uncomfortable as you'd think. When starting an exercise program you should not experience total discomfort. It's also very important to set realistic goals when starting an exercise program. For example if you currently don't exercise at all, in the beginning expecting to start an exercise program that consists of 60 minutes, 6 days a week is probably not realistic. Perhaps more realistic is 10-20 minutes of exercise, 2 days a week. Once you are able to attain that goal, you will build confidence and motivation to continue and add more exercise.

One reason could be your experience with exercising in the past can influence how you feel about exercising now. One thing you can do to help give you more enjoyment is make sure you are participating in something you find enjoyable. Sit down and set goals for yourself. Determine what you would like to accomplish through exercising. Do you want to improve quality of life, lose weight, look better in a pair of jeans? If you want to lose weight, why do you want to lose weight? If you want to improve quality of life, why do you want to improve quality of life? If you have a specific purpose why you want to exercise it gives you more motivation to enjoy and participate in an exercise program.


There are many reasons you might not enjoy exercise but here is some important information to take into consideration when it comes to exercise. Not everyone is in the same place when it comes to exercise. We are not all designed to start and continue to exercise for a lifetime. Exercise is a learned behavior much like brushing your teeth and if you didn't grow up active then as an adult it's much harder to become active. Jumping in with unrealistic expectations makes it even harder.

Exercisers go through five stages of change when it comes to exercise. To change behavior it takes 6 months. The pre-contemplative stage is people who don't want to exercise. This person has probably never exercised, didn't grow up with it and doesn't understand it or the benefits it provides. The contemplative stage is people who begin to see there is a need for exercise but the cons outweigh the pros. This person may have had experiences with exercise in the past but those experiences may not have been positive which lead to this person quitting exercise. In the preparation stage people are starting to think about exercising. This person has a plan to begin an exercise program. In action exercise has started although the habit hasn't yet formed. This person has not maintained a regular exercise program for 6 months. A person in maintenance has exercised regular for 6 months forming the new change or habit. In each stage a person can move forward or backwards.

Some final advice. Start with something fun! Start off small and bring a friend or family member along!
In my many years of teaching people the importance of engaging in regular physical activity, I've learned that people interpret that word "exercise" very differently.

The Fifth Edition of, "The Fitness Professional's Handbook" highlights the difference between physical activity and exercise. It states, "Physical activity includes any muscular activity that expends energy, whereas exercise is a subset of physical activity that is structured and planned to improve or maintain physical activity."

For example, my in-laws who live in Europe on a farm, never "exercise" as is defined above. However, the amount of physical activity they engage in, in order to maintain the farm is tremendous.

So, it is quite possible that you many never enjoy "exercise" as defined above. Many people approach living a fit and healthful lifestyle from different perspectives. What is important, though, is that you engage in regular physical activity.

I've attached the following link--the Activity Pyramid, which you may find of interest which gives really good ideas of how to include enjoyable activities that expend energy that you may find enjoyable.

All the best!

http://www.wellspan.org/body.cfm?id=112


Exercise in America has often been experienced as penance, punishment, and ordeal. We see exercise as competition, and our failure to "measure up" as defeat. A study published in the Journal of the American Medical Association found that one of the key reasons Americans don't exercise is the misconception that you need to do vigorous exercise to experience any benefits. The more research we have on exercise the more we know that this just isn't true.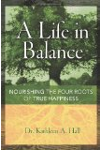 Continue Learning about Fitness