8 Great Outdoor Workouts to Try Now
Get out of the gym and have fun in the sun with these activities.
Updated on January 14, 2022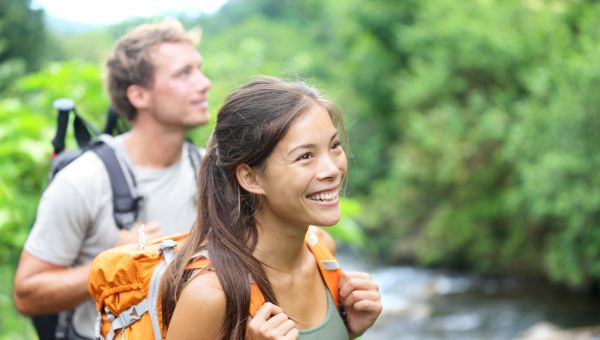 1 / 9
Looking for ways to get fit without spending your workout hours stuck inside a dark gym? You can stay active while enjoying your time outdoors with these eight fun-in-the-sun workouts. And don't forget to recruit a buddy to join you; each activity is more fun with friends. 2 / 9
Walking
Why get stuck on the treadmill when you can breathe in some fresh air and take in the beauty of the outdoors? Walking at a moderate pace can burn 280 calories per hour for a 150-pound adult.
Getting a fitness tracker can help you stay motivated. A small 2015 study found that nearly three of four participants maintained or increased their step goals by week 4 of a 16-week program while wearing a tracker. If you don't feel like buying a fancy tracker, use your phone. The Sharecare app (available on iOS and Android) has a step counter to help you track your progress. 3 / 9
Swimming and Water Exercise
When it's hot outside, it feels great to take a dip in a pool, ocean, or lake. According to the Centers for Disease Control and Prevention (CDC), swimming and other water-based exercises offer a number of benefits, especially for people with arthritis. Swimming helps those with rheumatoid arthritis more than other fitness activities. Water-based exercise also improves joint health and decreases pain in people with osteoarthritis. You don't even need to do laps—just swimming leisurely can burn more than 400 calories an hour. 4 / 9
Biking
Riding a bike is a fun way to get where you're going—and get fit on your way there. An easy ride can burn 290 calories an hour, while more vigorous pedaling can burn nearly 600.
Just remember that biking comes with the risk of injury: Hospital admissions for bike injuries more than doubled from 1999 to 2013. Make sure to wear a helmet and bright, reflective clothing; stick to designated bike lines as much as possible; and always follow the rules of the road. 5 / 9
Golf
Next time you hit the links, do yourself a favor and skip the golf cart and grab a lightweight bag designed for walking. Carrying your clubs and walking the course can burn up to 330 calories per hour. Just keep an eagle eye out when you're crossing the fairway ("fore!") and pay attention to your back. A 2014 analysis found that lower back pain was the most common health complaint of golfers, likely due in part to the twisting nature of the golf swing.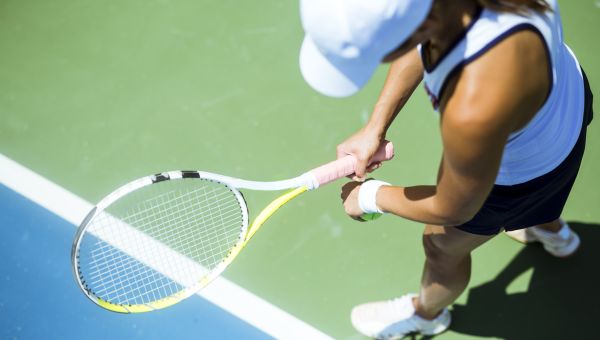 6 / 9
Tennis
Not only is tennis a great workout, but there's something satisfying about whacking the ball over the net. Singles tennis can burn up to 549 calories per hour, according to the American Cancer Society. Plus, tennis can strengthen your muscles; running and jumping helps keep your legs toned while swinging the racket and hitting the ball works your arms. 7 / 9
Gardening and Yard Work
Staying fit might be a compelling reason to knock out some of your chores. Light gardening or pushing a lawnmower can burn about 330 calories per hour. Cut the grass, plant some flowers and two hours later you'll have burned the equivalent of a double cheeseburger.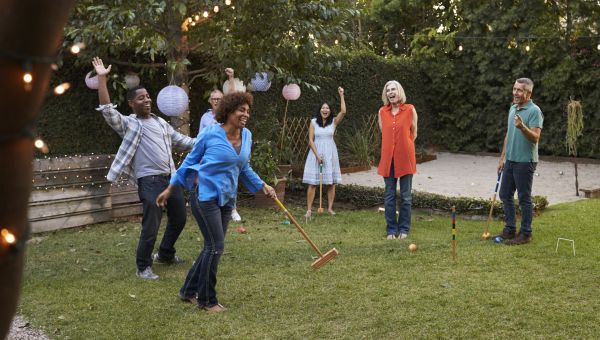 8 / 9
Lawn Sports
Now that you've mowed the lawn, it's time to play in the yard. A game of Frisbee or horseshoes will burn about 200 calories an hour, and croquet can burn 225. But if you really want to turn up the heat, try Ultimate Frisbee. It's fun, fast-paced, and can help you shed 544 calories. 9 / 9
Paddling
Canoeing, kayaking, and stand-up paddleboarding aren't just for sightseeing—they can help you stay active. Paddling a canoe will net you about 240 calories per hour, while kayaking is a little more vigorous, burning about 340 calories per hour. Stand-up paddleboarding is a serious workout that can improve balance, exercise your core, and strengthen your bones. It also burns over 400 calories per hour. Replay Slideshow
Slideshow sources
Centers for Disease Control and Prevention. Healthy Weight, Nutrition, and Physical Activity. Physical Activity for a Healthy Weight. Page last reviewed: October 28, 2020.
Harvard Health Publishing. Harvard Medical School. Calories burned in 30 minutes for people of three different weights. March 8, 2021.
Cadmus-Bertram L, Marcus BH, Patterson RE, Parker BA, Morey BL. Use of the Fitbit to Measure Adherence to a Physical Activity Intervention Among Overweight or Obese, Postmenopausal Women: Self-Monitoring Trajectory During 16 Weeks. JMIR Mhealth Uhealth. 2015;3(4):e96.
Centers for Disease Control and Prevention. Healthy Swimming. Health Benefits of Water-based Exercise. Page last reviewed: May 4, 2016.
Fergus KB, Sanford T, Vargo J, Breyer BN. Trends in bicycle-related injuries, hospital admissions, and deaths in the USA 1997-2013. Traffic Inj Prev. 2019;20(5):550-555.
Lindsay DM, Vandervoort AA. Golf-related low back pain: a review of causative factors and prevention strategies. Asian J Sports Med. 2014;5(4):e24289.
Edwards N, Dickin C, Wang H. Low back pain and golf: A review of biomechanical risk factors. Sports Medicine and Health Science. 2020;2(1):10-18.
Stacy Simon. Tennis, Anyone? American Cancer Society. July 5, 2017.
Daniel J. Green. ACE-SPONSORED RESEARCH: Can Stand-up Paddleboarding Stand Up to Scrutiny? American Council on Exercise. August 2016.