Kids ages 14 and up – as well as adults -- should:
Participate in 30 to 60 minutes each day of moderate physical activity such as walking. This can be broken into sessions of 10 minutes each. If activity is more intense, 30 minutes a day is acceptable. If activity is light, aim for 60 minutes.
Build muscle strength and endurance through resistance or strength-training exercises. Resistance may come from your child's own body such as with sit-ups, push-ups, and pull-ups or from equipment such as weight machines, free weights or barbells, a body bar, resistance bands, stability ball, or water.
Build balance and flexibility through stretching and flexibility exercises. In addition to warm-up and cool-down periods before moderate and vigorous activities, yoga, tai chi, tae kwon do, qigong, Pilates, and basic stretching build flexibility and balance.
Build cardiovascular endurance through aerobic or cardio exercises and activities. Examples include any activity -- walking, bicycling, swimming, jogging/running, dancing, martial arts, stair climbing, skiing -- that requires sustained movement of the large muscles of your body, such as the thighs, butt, back, and chest, for at least 10 minutes.
From Good Kids, Bad Habits: The RealAge Guide to Raising Healthy Children by Jennifer Trachtenberg.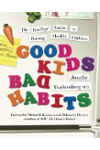 It is very important that youths stay active through their formative years. Today, one in three teens is overweight or obese, for a variety of reasons. Some reasons include improved technologies and lack of exercise. With constantly improving technology, more youths are opting to stay inside versus getting out and being active. The CDC recommends that youths perform aerobic exercise on a daily basis for 60 minutes. Strengthening exercise or sports should be performed at least 3 days per week for 60 minutes.
Continue Learning about Fitness