If you think of exercise as play, it will be fun for both you and your children. Start a scavenger hunt either outside, in a grocery store as part of your shopping, or in the house when the weather is not conducive to playing outside. Walking to a park to play on the swings and slides or visiting a zoo is part of exercise and kids enjoy a say at the park. Activities like gardening can also be considered exercise. Many children enjoying dancing, so put some music on and have a dance contest as part of your exercise routine.
Your child's world doesn't have to be limited. Moms, Dads, think fresh start. Think back to being a kid. Think about those times when you would get totally absorbed in an activity. Remember your thoughts, feelings, curiosity, creativity, and the urge to explore. Bring back that playful spirit and share it with your kids. Forget the word exercise and think fun, fun, fun. Being active as a kid is playing. Building forts. Chasing one another. Playing tag. Riding bikes. Kick ball!
And you often can join right in on the game. You know how entertaining it is to watch someone who's having fun? It's a contagious energy. By connecting with your playful spirit -- that spirit that was effortless as a child -- your children will notice when you're having fun and want to be part of it.
From Good Kids, Bad Habits: The RealAge Guide to Raising Healthy Children by Jennifer Trachtenberg.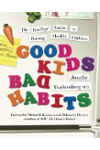 If your child isn't enjoying exercise, try to determine why, and formulate an action plan from there. Children will dislike various exercise for various reasons. For instance, if your child dislikes playing a sport such as soccer, ask why. Is it because because of the team dynamic? Or maybe the coach? Perhaps it's because there is no enjoyment in the sport, or it could even be a self-efficacy issue. Sometimes children can be intimidated by sports because they don't feel they excel at it as well as their teammates. To get your child to enjoy exercise, get to the bottom of the issue, and find out why he or she doesn't enjoy it presently. Then, use this information to find something more suitable and enjoyable.

Continue Learning about Fitness For Children