How can I tell if someone is having a breathing emergency?
Breathing emergencies depend on how quickly or deeply a person is breathing. In this video, I will describe the circumstances where a trip to the hospital is necessary.
How Can I Tell If Someone Is Having A Breathing Emergency?
Watch and listen to the person's breathing and ask how he or she feels.
Signals of breathing emergencies include:
Trouble breathing or no breathing
Slow or rapid breathing
Unusually deep or shallow breathing
Gasping for breath
Wheezing, gurgling or making high-pitched noises
Unusually moist or cool skin
Flushed, pale, ashen or bluish skin
Shortness of breath
Dizziness or light-headedness
Pain in the chest or tingling in the hands, feet or lips
Apprehensive or fearful feelings
You can be sure of a breathing emergency by listening and looking at the patient. First, is the person able to speak comfortably, or are they having difficulties with speech? Secondly, when looking at their neck and chest, can you see that they are using more of those muscles to breathe than usual? Are they tiring out while breathing? Finally, you can ask the person if they are having trouble breathing. If they answer yes to any of these questions, then it could be a breathing emergency. If they aren't capable of answering you, it's time to seek medical attention.
Continue Learning about First Aid For Medical Emergencies & Conditions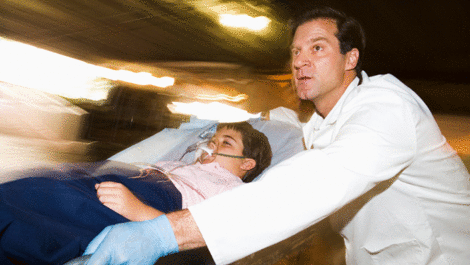 First aid for medical emergencies and conditions can sometimes be performed at home, but seek medical attention for any serious symptoms.