During pregnancy, the busy placenta produces a hormone called relaxin that helps your whole body physically become a bit looser.

You need to seriously increase your flexibility down in your fetus's living quarters because, during pregnancy, your uterus grows from about the size of a tennis ball to the size of a beach ball. Relaxin relaxes the intrauterine ligaments, allowing the uterus and pelvis to expand. Relaxin also relaxes other parts of your body, like your arteries, which have to accommodate a much higher blood volume without sending your blood pressure through the roof. Your musculoskeletal system also loosens up, giving you more flexible joints and more curvature in the back to prepare for carrying and delivering a baby.
Continue Learning about Pregnancy, Fertility and Childbirth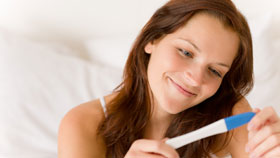 Once you become pregnant, it is important to follow your doctors recommendations for prenatal care, which can help to make sure that you and your baby stay in the best health possible. In your last trimester, it will be important ...
to understand what happens during labor and delivery, and to know your pain control options. Learn more about pregnancy and childbirth from our experts.
More