You may know that your breasts will increase in size during pregnancy, but it may help to know a little bit more about how and why they change. Simply put: As estrogen, progesterone, and fat storage increase, so does your breast size. As the milk-producing glands get bigger during pregnancy, you can add as much as a pound of tissue and two cup sizes to your breasts.
To prepare for breastfeeding, milk (and the precursor to milk) forms in glands and enters the nipple through many ducts, like a sprinkler nozzle. While it doesn't work for everyone, breastfeeding has long been known to provide many health and immunity benefits to the baby.
Besides their increase in size, you'll notice many other changes to your breasts as your pregnancy progresses.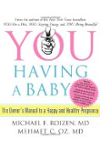 Continue Learning about Pregnancy, Fertility and Childbirth