A low-fat, high-carb diet can only help you lose weight! We are meant to eat whole, nature-made foods, of which are composed of high carbs and little fat. If you focus on consuming foods that are not processed and refined, carbs will be your best friend in your weight loss efforts. Fruits, vegetables, whole grains, and legumes are the healthiest options available for your body and they are primarily made up of carbohydrates. It is time to let go of the carbophobia that so many people have embraced and to realize the gorgeous health benefits associated with these foods, including the abundant offerings of phytonutrients, antioxidants, fibers, vitamins, minerals, and water that these foods offer.
A low-fat high-carbohydrate diet can decrease your ability to lose weight, particularly body fat. The issue with this type of diet is that when most people go on a low-fat diet, typically they don't consume healthy high fiber, unrefined carbohydrates. Most people will replace high fat foods with foods that are high in refined, processed carbohydrates. When replacing fat with carbs, you also get a surge in blood glucose which leads to a spike in insulin levels. Elevated insulin levels inhibit the activity of the enzyme hormone-sensitive lipase.
This enzyme is responsible for breaking down stored fat (triglycerides) into glycerol and fatty acids; the latter which will be used as a source of energy. The ideal way to follow a low-fat high carb diet is to make sure you still consume adequate amounts of healthy fats such as those found in olive oil, nuts like almonds and cashews as well as fish such as sardines and salmon. Small portions are key. Include small portions of high-fiber whole grains along with a source of protein i.e. brown rice w/grilled chicken. By consuming high-fiber whole grains with protein, it will take a longer time to digest the meal and absorb the glucose from the breakdown of the carbohydrates. This way, you avoid the surge in blood sugar and insulin that's common after consuming a meal rich in refined, low-fiber carbohydrates.
Another tip-to lose body fat do cardio exercise on an empty stomach in the AM and strength training later in the day; at least a couple of hours after a meal as you'll need the energy for your workout.
A high carbohydrate, low fat diet will only help you lose weight if your carbohydrates are high fiber foods and not refined sugars. This means a diet high in whole grains, vegetables and fruits. This type of diet will be low in calories, since high fiber foods do not have a lot of calories and reducing intake of fat will lower calories.
We now know that low-fat/high-carbohydrate diets increase the level of fat in the blood and lower high-density lipoprotein cholesterol (HDL, or "good") cholesterol of some people, particularly women over forty, and cause an increase in weight instead of weight loss.
In fact, in people who are insulin resistant, a diet high in carbohydrates such as pasta and white potatoes activates enzymes involved in fat storage.
Currently 50 million Americans—mostly baby boomers—suffer from metabolic syndrome and have risk factors such as type 2 diabetes, hypertension, high triglycerides, and low HDL cholesterol.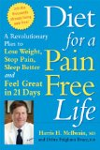 A low-fat, high-carbohydrate diet can keep you from losing weight for 2 reasons. First, it depends on the percentage of fat and carbohydrates in your diet. For example, if fat is less than 30% of your calorie intake, then you will not feel satisfied and just eat more carbohydrates than your body needs. Second, it depends on the type of carbohydrates you are eating. For example, refined and simple carbohydrates such as white bread, juices and candies have no fiber, and thus, you do not feel satisfied. However, if you consume more complex carbohydrates such as whole wheat bread and fresh fruits, you will feel more full and be getting more vitamins and minerals overall.
To keep from losing weight or in other words maintain your weight it is important to consume as many or more calories as you are expending in daily activity. A low-fat diet and preferably health fats such as those from nuts and olive oil I recommend to be about 20% of your calories consumed. Fifty percent of your calories eaten should come from complex carbohydrates found in whole grains. Thirty percent of your daily intake should come from proteins such as legumes, lean meat and dairy products as part of a healthy meal plan.
Weight loss is a tricky thing! It's important to consider the percent of calories coming from fat and carbohydrate in your diet. If your intake of fat is TOO low (less than 25-30% of calories), you may not feel as satisfied after eating. You may compensate for this by increasing your intake of carbohydrate, believing that eating fat will prevent you from losing weight. However, we know that too many calories from any macronutrient source will lead to weight gain. Instead of cutting out fat and increasing carbohydrate, try focusing on eating good sources of fat, such as olive oil, salmon, tuna, and nuts (walnuts and almonds especially). These foods will not only help you feel full and satisfied, but will also provide nutrients that are good for your heart. A winning combination all around!
Continue Learning about Fats and Weight Loss