What is a keyhole eye, and what can be done about it?
The term keyhole eye usually refers to a coloboma involving the iris in the front of the eye. A coloboma can be an isolated problem involving only the iris, or it can be associated with defects in the retina or optic nerve or even systemic conditions. Therefore, it is important that a child with a coloboma be evaluated by an eye doctor for evidence of associated eye or other abnormalities. If the problem is isolated to the iris, it does not adversely affect visual acuity. Unfortunately, the keyhole appearance cannot be surgically corrected. In older children, eye doctors will sometimes prescribe colored lenses or contact lenses imprinted with an iris pattern to help mask the defect.

Continue Learning about Eye Conditions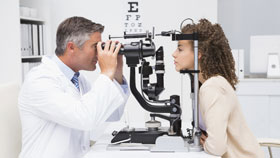 Eye diseases, which are common among adults and range from temporary to chronic and sight‐threatening, can be a result of genetics, injury, surgery or aging. You can lower your risk with a proper diet, wearing sun-protective lense...
s when outdoors and by seeing your doctor for regular exams.
More