WALK: Walk 30 minutes. No matter what. No excuses. It doesn't matter if you do it in either one whole block, or broken up into as many as three shorter sessions.
STRETCH: Once your body is warm (after walking, for instance), perform some good stretches for 5 minutes to help elongate your muscles.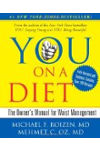 Your routine should be well rounded and include flexibility, cardiorespiratory, and resistance training. Doing just one exercise daily will yield minimal health benefits, and show very limited results.
Continue Learning about Exercise For Weight Loss