You have all seen elderly people walking around with bent knees all stooped over. While there can be many reasons for this, one big reason people start walking with bent knees is shortening of the hamstrings. The hamstrings are the large muscles in the back of your leg that connect your pelvis to your lower leg. Hamstrings act as the rubber band that flexes your knee during walking or, more powerfully, during exercise. After years in a crinkled state, muscles like hamstrings get shorter. The thigh bone (femur), however, does not get shorter, so the only way you can make the distance between the pelvis and lower leg shorter is to bend your knees. Well, you can't walk with bent knees and straight hips, so to compensate, you bend your hips forward and, before you know it, you are walking around with a stooped gait -- looking old.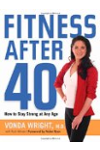 More About this Book
Fitness After 40: How to Stay Strong at Any Age
It's one of the undeniable facts of life. After we reach a certain age, our bodies change. No matter how fit we may have been at 20, we're very different people after 40. But growing older doesn't...
Continue Learning about Exercise & Muscles