If you have erectile dysfunction, you and your partner can do a movie night. But don't just watch any old movie. Look. Porn/erotica may be one of those pleasurable pursuits you prefer to enjoy alone. But such films can also be used as a tool to combat problems with arousal. Men are more visual (which is why most porn is aimed at men) and, if your erectile dysfunction is primarily psychological, watching a skin flick right before sex could be just what the doctor ordered. And watching one together could allow you and your partner to open up a fruitful dialogue about fantasy, turn-ons, new positions, and more.

So dim the lights in your TV room, settle down on the couch, and pop in your favorite DVD. Comstock Films' Matt and Khym is an ideal film for couples, as it depicts sex -- and raw sex talk -- between two real-life lovers. And Candida Royalle's Femme Productions is dedicated to creating porn that gives couples "positive sexual role modeling." But there's always Internet porn, too. While a definite mixed bag, sites like RedTube and YouPorn provide the payoff for free.

While you should definitely concentrate on enjoying what you see on-screen, don't hold back in letting your partner know when something is making you hot. These comments may develop into dirty talk and, eventually, the film's bow-chik-a-bow-bow may be background music to your own on-the-couch action.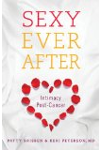 More About this Book
Sexy Ever After: Intimacy Post-Cancer
Recent studies show that 40-100 percent of men and women who have been treated for cancer have experienced some level of sexual dysfunction. Sexy Ever After: Intimacy Post-Cancer will help you...
Continue Learning about Erectile Dysfunction