Can I take an erectile dysfunction drug if I take a blood thinner?
Most men can safely take blood thinners such as warfarin (Coumadin) and enoxaparin (Lovenox) with medications for erectile dysfunction (ED), including Viagra (sildenafil), Cialis (tadalafil) or Levitra (vardenafil). However those who have pulmonary hypertension -- abnormally high blood pressure in the arteries of the lungs -- are at increased risk of bleeding if they take a blood thinner and an ED medication. If you are on a blood thinner, talk to your doctor about ED treatment that is right for you.
Continue Learning about Erectile Dysfunction Treatment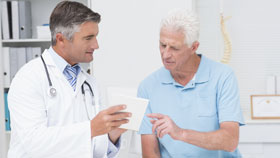 Erectile dysfunction (ED) can be treated by urologists or other specialists or even by your general practitioner. Your doctor may recommend medication that works by relaxing penis muscles and increasing blood flow into the penis. ...
Other treatments include therapy, implants, surgery and lifestyle changes, like exercising regularly, losing weight and eating right.
More