The serving size of a potato is different for the general public versus some who has diabetes. Potatoes are considered a starchy vegetable thus containing a higher amount of carbohydrate per ounce than a non-starchy vegetable like green beans. According to the USDA Dietary Guidelines and MyPlate a serving of potato is 1 cup diced, mashed or baked or 1 medium boiled potato. For an individual with diabetes, a serving of carbohydrate (15 grams) is equivalent to a small potato or a 3 ounce serving.
One serving of baked potato (white or sweet), is the size of a computer mouse, while a serving of mashed potatoes is ½ cup. One serving of French fries is two to three ounces (in restaurants, that's roughly the size of a "small" bag). And guess what? Those amounts take up a quarter of your plate.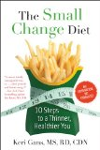 Continue Learning about Eating Habits and Nutrition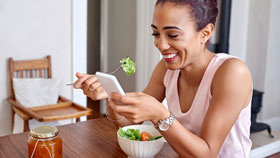 Three meals a day or five? That's only one aspect of the behavior known as eating habits. There is also the matter of style. Do you plan your meals or eat on the run - do you eat when you are happy, sad, or stressed - these are ot...
hers. Recognizing your eating style can help you work to achieve healthier eating habits.
More