Fresh or dried herbs, spices and citrus juices can be used while cooking to flavor food without salt.
Stay away from salt substitutes, which are high in potassium. Instead, use herbs, spices, garlic, lemon, lime, and vinegar. Extra-virgin olive oil and lemon or vinegar makes a flavorful vinaigrette for salads.
Continue Learning about Eating Habits and Nutrition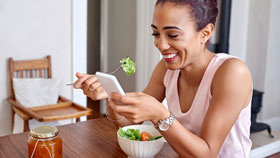 Three meals a day or five? That's only one aspect of the behavior known as eating habits. There is also the matter of style. Do you plan your meals or eat on the run - do you eat when you are happy, sad, or stressed - these are ot...
hers. Recognizing your eating style can help you work to achieve healthier eating habits.
More