American children and adults often eat more than a single serving of cereal daily because many manufacturers list unrealistically small serving sizes on the nutrition facts label. Many cereals list a serving size of 30 grams, corresponding to 3/4 cup or 1 cup. However, both food industry and academic studies have found that many children eat much larger amounts in a single sitting.
Continue Learning about Eating Habits and Nutrition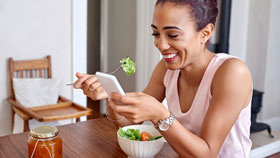 Three meals a day or five? That's only one aspect of the behavior known as eating habits. There is also the matter of style. Do you plan your meals or eat on the run - do you eat when you are happy, sad, or stressed - these are ot...
hers. Recognizing your eating style can help you work to achieve healthier eating habits.
More