Snacks should be calculated into your total calories consumed for the day. Vending machines vary in what is offered so check for items on this list for your best bets for a healthy snack choice:
Peanuts, tree nuts or seeds
Raisins
Trail mix
Whole grain based bars, crackers, or chips
Fat reduced popcorn
Freeze dried fruit chips
Baked chips
Pretzels
water
Vending machine options are often limited to unhealthy sweet or salty snacks. In this video, Dr. Oz challenges his audience to find the healthiest vending machine snacks.



Continue Learning about Eating Habits and Nutrition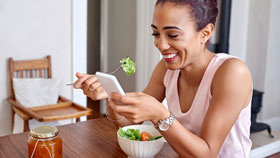 Three meals a day or five? That's only one aspect of the behavior known as eating habits. There is also the matter of style. Do you plan your meals or eat on the run - do you eat when you are happy, sad, or stressed - these are ot...
hers. Recognizing your eating style can help you work to achieve healthier eating habits.
More